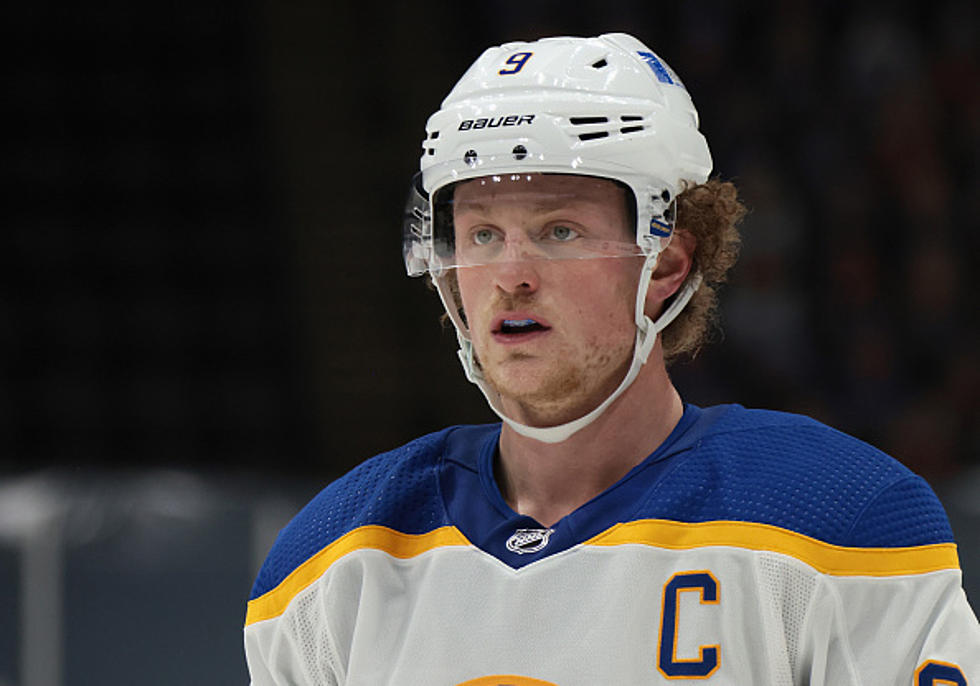 Jack Eichel Says What Went Wrong With The Buffalo Sabres [WATCH]
Getty Images
The Buffalo Sabres finally did what fans have been waiting for, for the last six months: trading Jack Eichel.
Eichel was traded, along with a 2023 third-round pick, to the Vegas Golden Knights for forward prospect Peyton Krebs, forward Alex Tuch, a 2022 first-round pick (top-10 protected), and a 2023 second-round pick.
The trade also means that Eichel will finally be able to get his preferred neck surgery (artificial disc replacement), which has always been a major dispute and hold-up when it comes to a trade. The Sabres wanted Eichel to get a disc fusion surgery, which Eichel and his team did not want to do.
However, it was clear that Eichel didn't want to be with a young, inexperienced team that was going through another rebuild.
Eichel broke his silence on Thursday afternoon, talking with Elliotte Friedman of SportsNet in Canada.
Eichel said he went to the team in 2020 before the season started to let it be known that he wasn't happy with the idea of the rebuild-like process and that he would like to be moved.
Eichel admits that "did not go over well" with the Sabres.
Eichel adds that it did seem like the Sabres made moved before 2021 that made it seem like they were trying to win (signing Taylor Hall). Then the disaster 2021 season and Eichel's injury sealed the deal for his desire to leave Buffalo.
It's now evident that the conversation Eichel had with the franchise in the spring or summer of 2020 was where this unraveled. Eichel wanted to be moved and the Sabres didn't want that. Then the disaster 2021 season and the injury made things that much worse.
For Eichel's sake, for the Sabres' sake, and for fans sake, it's a relief this long process is finally over.
Former Buffalo Sabres Player Sells Million-Dollar Clarence Home
One of the key players on the Buffalo Sabres 1999 playoff run, Richard Smehlik, is
selling
his Clarence home.
$12 Million Castle In New York Has Its Own Underground Tunnel
This
$12 million home
is located in the Catskills and has its own underground tunnel.
Incredible $1.5 Million Home In Clarence Has Own Pool and Lake