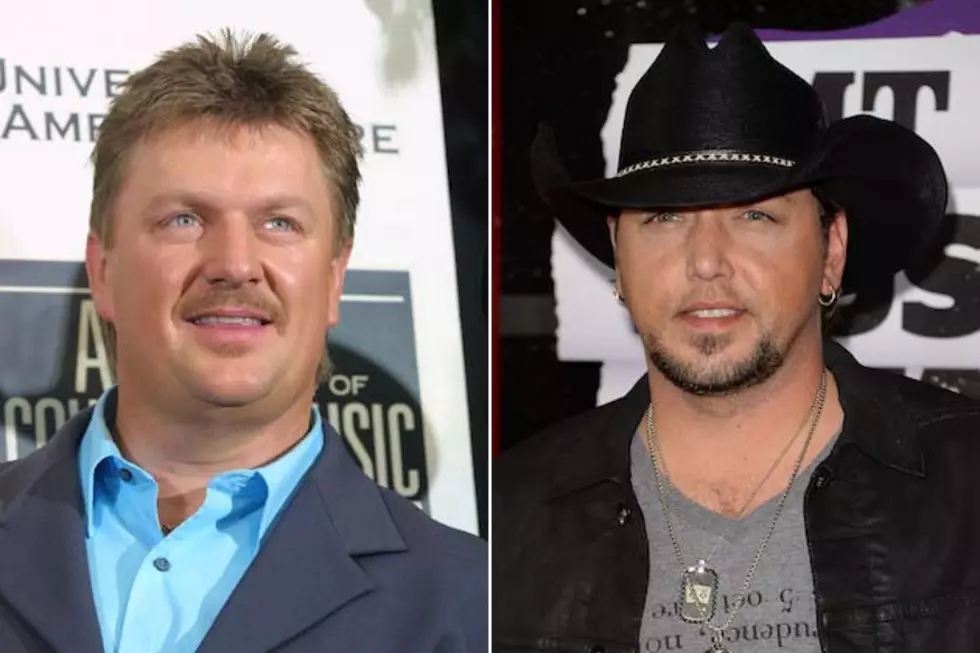 Joe Diffie Reveals Why He Was Missing From Jason Aldean's '1994' Video and ACMs Performance
Frederick M. Brown/Jason Merritt, Getty Images
You can't think of Jason Aldean lately without thinking of '1994,' and you can't think of that catchy hit without thinking of Joe Diffie. There were high expectations that the singer would appear in Aldean's music video or 2013 ACMs performance. However, there was no Diffie in sight -- except for the move Aldean was doing onstage. The '90s hitmaker has shared on why he was missing.
The 'Pickup Man' singer tells Country 925 that Aldean did try to include him, saying, "We had a couple conversations, but it just seemed the timing was never good for either one of us. It's just a matter of timing."
Diffie also mentions that although it took a bit of getting used to, -- in fact, he was a bit shocked at hearing his name in a song -- he now plays '1994' for family and friends who say, "That's just too cool!"
He thinks it's pretty great too, as Aldean's hit song has had a positive impact on his career. "Jason's great, and I tell you what, he's kind of revived my whole career," Diffie says pointing out he has a whole new fan base, who just want to know who this guy is that Aldean is talking about.
It's also interesting to note that Diffie actually asked the 'Night Train' singer to be in his new music video, but again -- the timing wasn't right ('She's Country' gets sampled briefly in 'Girl Ridin' Shotgun'). If the stars ever align to get these two huge country stars together, there will be a whole lot of 'diffie-ing' at least among fans. However, the real Joe Diffie doesn't really know how to do the move. "If I knew how, I might try it," he laughs.