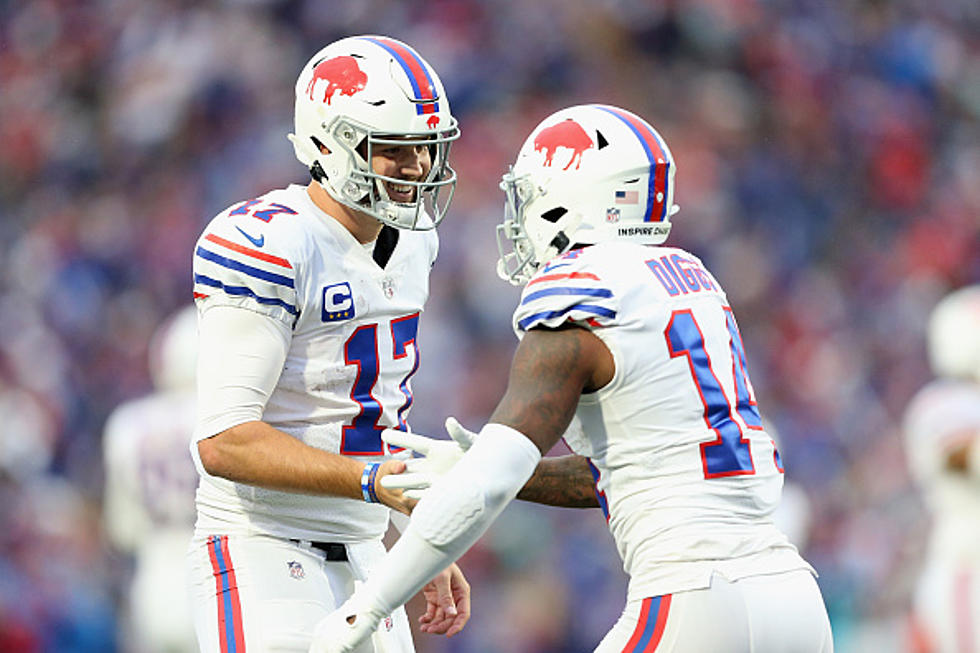 Josh Allen Tweet About Stefon Diggs Goes Viral
Getty Images
Josh Allen and Stefon Diggs are among the best quarterback/wide receiver tandems in the entire NFL. Some wondered if the combo would work after Diggs was traded from the Minnesota Vikings to the Buffalo Bills in March of 2020, but not only has it worked, it's been historic.
No wide receiver has ever caught more passes for his new team in his first two seasons than Diggs has with the Bills, beating the previous mark held by Wes Welker for the New England Patriots in 2007-2008.
Allen clearly does not want Diggs to ever leave the Bills. That was evident from a tweet that went viral this past weekend.
SportsCenter tweeted a screenshot of Travon Diggs (Stefon's little brother) saying he would love to be on the same team as Stefon in Dallas.
"Could you imagine?" was the caption.
Josh does not approve...
The tweet accumulated over 120k likes in less than 24 hours and outside of Josh's coin toss "pain" tweet from January, it's the most early reaction Allen has ever got for a tweet.
This leads into the discussion of Stefon Diggs needing a contract extension. Diggs has two years remaining on his current deal and the 28-year-old receiver is due for a pay raise and contract length, which would likely help the Bills salary cap situation in the short term.
We will have to wait and see when general manager Brandon Beane decides to extend Diggs, but it should be this off-season.
Predicting The Buffalo Bills 2022 Schedule
Here's a very early guess on what the 2022 Buffalo Bills schedule will look like.
Tom Brady Was Intercepted By These Buffalo Bills [LIST]
Tom Brady officially called it quits. He is a list of every Buffalo Bills player who intercepted him during his Hall of Fame career.
LOOK: Things from the year you were born that don't exist anymore
The iconic (and at times silly) toys, technologies, and electronics have been usurped since their grand entrance, either by advances in technology or breakthroughs in common sense.
See how many things on this list
trigger childhood memories—and which ones were here and gone so fast you missed them entirely.