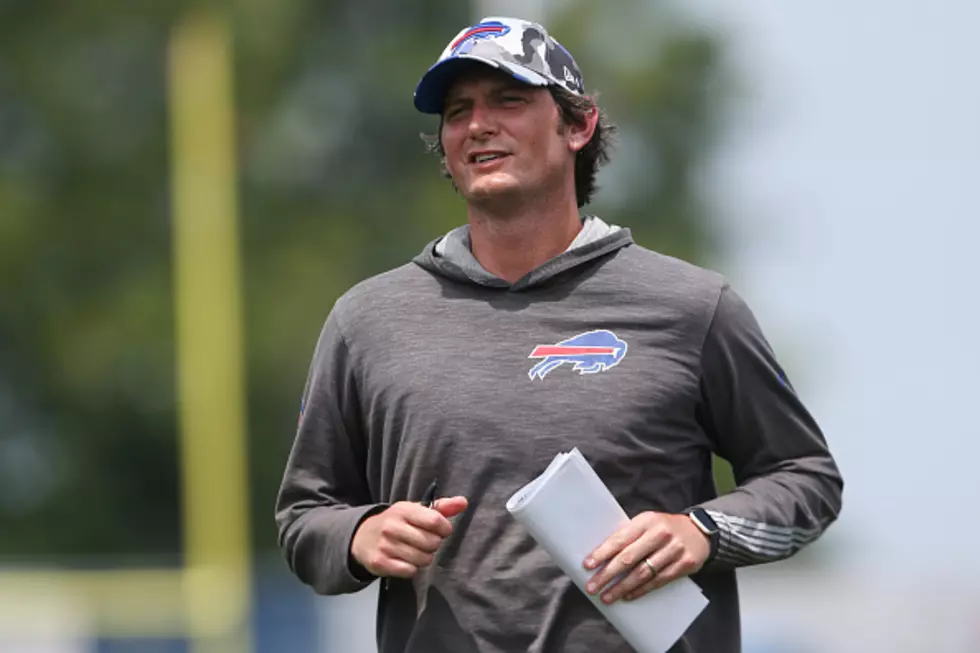 Dorsey To Interview for Head Coaching Job Day Before Bills Game
Getty Images
The Buffalo Bills are preparing for the Cincinnati Bengals this Sunday for the AFC Divisional round game at Highmark Stadium.
Both the Bills and Bengals are in the midst of impressive winning streaks. The Bills haven't lost since early November (8 straight wins) and the Bengals since late October (late October).
The January 2nd game on Monday Night Football game in Cincinnati was cancelled just two full drives into that contest, due to the Damar Hamlin medical event.
The Bills will have to take advantage of the Bengals cornerbacks and linebackers, which are probably the two weakest spots on the Cincinnati defense, which will fall on the shoulders of both quarterback Josh Allen and offensive coordinator Ken Dorsey.
However, Dorsey does have another thing happening this week that's not involving this game.
According to Peter Schrager of FOX Sports and Good Morning Football, Dorsey will interview for the Carolina Panthers head coaching position on Saturday, the day before the Bills divisional round playoff game against the Bengals.
For those who don't know, this is pretty normal. The teams who have head coaching openings put requests in to teams to interview their offensive or defensive coordinators for those jobs; unfortunately, it has to happen during these playoff runs, because those teams are typically the teams that owners want to pick from.
I'm sure Dorsey will have his full attention on the game Sunday, and will have a game plan in place before Saturday. Dorsey spent seven years with the Carolina Panthers, five of them as a quarterbacks coach.
Bills fans have been frustrated by Dorsey's play calling, especially lately. We will see if Dorsey gets that Panthers job. Carolina by the looks of it, wants an offensive-minded head coach.
15 Amazing Buffalo Restaurants For the Best Comfort Food
Check out some of the best places for comfort food in Western New York.
10 Things That Shock People After Moving To Buffalo
22 Famous Buffalo Sports Phrases Every Die-Hard Bills and Sabres Fan Knows
Being a sports fan in Buffalo is sometimes like knowing a different language. Here are 22 of our favorite Buffalo sports phrases you already know if you're a huge fan! And if you're new here, here's how to catch up.