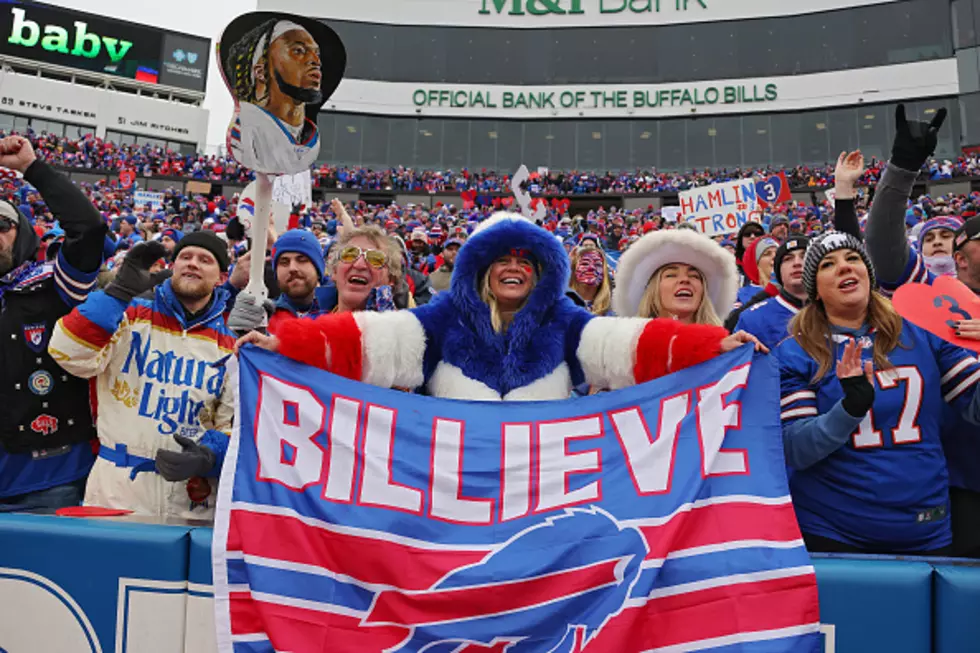 Map Shows 24 States Are Rooting for the Buffalo Bills
Getty Images
The Buffalo Bills are heading into the playoffs as the AFC's 2 seed, as they have played one less game than 12 of the 13 teams in the NFL postseason: the Cincinnati Bengals being the other.
The Bills host the Miami Dolphins this Sunday at Highmark Stadium in the wild card round. Kickoff is set for 1 pm.
The Bills have dealt with more adversity than any other team in the NFL this season.
Not only has the team dealt with an array of key injuries, most notably to starters like Micah Hyde, Jordan Poyer, Tre'Davious White and Von Miller, but they also lost a home game in November due to the massive lake effect snowstorm, which dumped over six feet of snow in Orchard Park.
Then there was the Christmas weekend blizzard, which prevented Buffalonians from spending time with families and over 40 deaths, making it the most deadly winter storm in the region's history. The Bills did not get back to their homes until late Christmas Day.
Last Monday night, we all know what transpired with Damar Hamlin. Thankfully, Hamlin is back home but the emotions surrounding that night and aftermath is well-known. The Bills and Bengals game was cancelled and Buffalo ended up not having a fair chance at the 1 seed, which was a destiny they controlled.
Maybe all of that adversity is why the nation is collectively rooting for the Bills.
According to Bet Online dot org's map of playoff rooting interest, 24 of the 50 states are rooting for Buffalo.
Geotagged Twitter data and fan hashtags were used to determine the rooting interests.
Half of the country is rooting for Bills Mafia this weekend.
22 Famous Buffalo Sports Phrases Every Die-Hard Bills and Sabres Fan Knows
Being a sports fan in Buffalo is sometimes like knowing a different language. Here are 22 of our favorite Buffalo sports phrases you already know if you're a huge fan! And if you're new here, here's how to catch up.
16 Buffalo Bills With Some Of The Best And Worst Nicknames
Complete List Of Buffalo Bills Available On Cameo