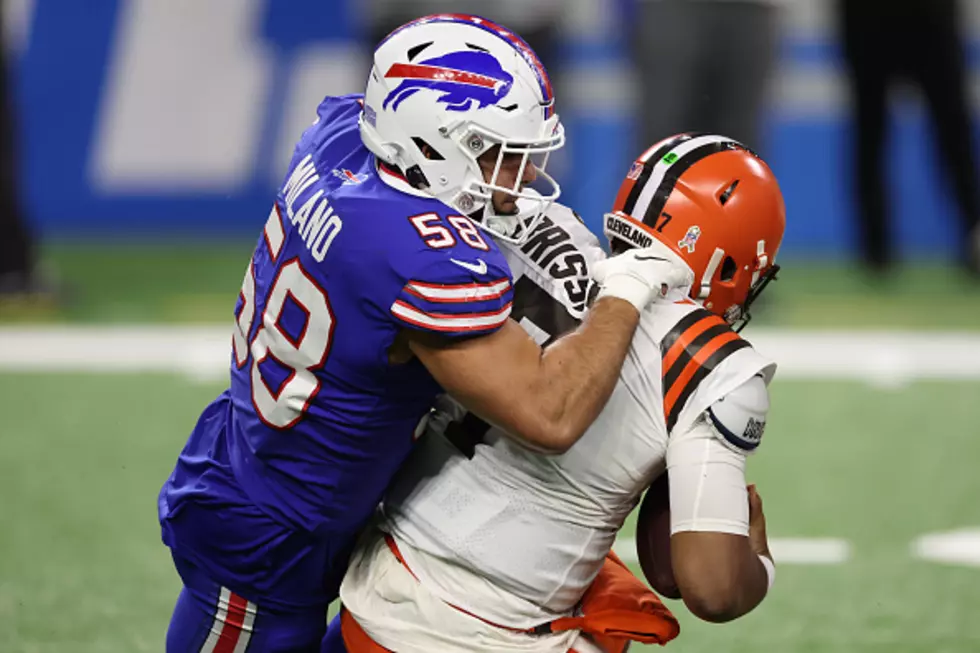 Bills Player: Teammate is the NFL Defensive Player of the Year
Getty Images
The Buffalo Bills are 7-3 after their 31-23 win over the Cleveland Browns in Detroit on Sunday. The game was moved from Orchard Park's Highmark Stadium to Detroit's Ford Field, due to the historic lake effect snowstorm.
The Bills had an awful start, as it looked like the Browns would run away with the game in the first half. One fumbled snap by Browns quarterback Jacoby Brissett started to turn the game around and the by the start of the second half, the Bills were a different team.
The Bills defense faced adversity. They were missing quite a few starters, including linebacker Tremaine Edmunds, cornerbacks Tre'Davious White and Kaiir Elam and safety Micah Hyde. They also did not have edge rusher Greg Rousseau and fellow edge rusher A.J. Epenesa left the game due to an ankle injury.
However, one Bills player stood above the rest and one of his defensive teammates lobbied for him to be the NFL's Defensive Player of the Year.
Bills defensive tackle Jordan Phillips made it an effort to let reporters know that linebacker Matt Milano should be the NFL's Defensive Player of the Year.
Milano has eight tackles and a sack against the Browns, along with playing in coverage.
What makes Milano special is his excellence in both run stopping and pass coverage. He's been extremely valuable for the Bills when healthy and he played a big role in completely shutting down Browns running back Nick Chubb.
Milano might be the most under-appreciated player in the entire NFL. Other than Dallas Cowboys edge rusher/linebacker Micah Parsons, I think Jordan Phillips has a point for his Defensive Player of the Year argument.
Check Out The 11 Most Underrated Bills Defensive Players In The Past 30 Years
I wanted to comb past the amazing defenses the Bills have had over the past 30 years and put the spotlight on some stellar role players who help lead the team to the playoffs and beyond. We are talking about players that maybe didn't get lots of love from the National media or made tons of Pro bowls, but we were still proud that they were part of the team.
Check Out The 11 Most Underrated Bills Offensive Players In The Past 30 Years
The Buffalo Bills have has some amazing players over the years. We all know the superstars so we wanted to put the role players in the spotlight with this list.
[carbongallery id="609e92247c0f57515fc0f