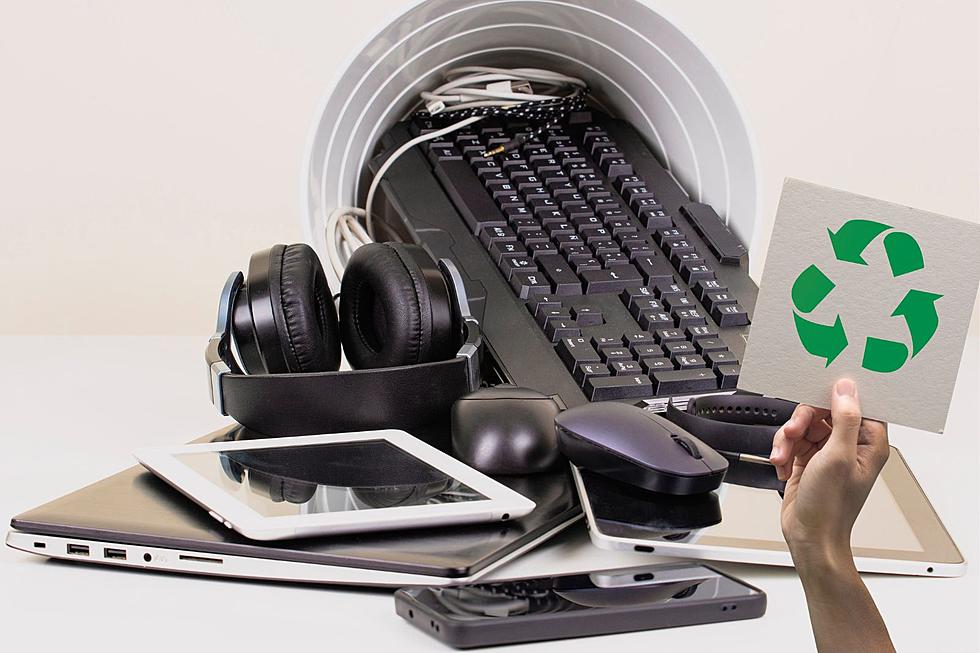 A Mega Electronics Recycling Event Coming Soon In Niagara Falls
(Canva)
What do you do with that enormous big-screen TV that you have sitting in your basement?  You can't throw it in the trash.  How can you get rid of it?
How many times have you seen someone on Facebook ask this question, or maybe you've asked it yourself?  What do you do with outdated electronics that you no longer use?  They're just taking up space in your basement or your attic.  It hurts to just let them go because you spent so much on them when they were new, but they aren't doing you any good now.  It's time to find a reputable recycling event and clear them out of your house.
Always try to repair instead of replacing your electronics
It's sometimes easier said than done.  Electronics are often expensive because they're pretty intricate.  But if you can find a way to repair them instead of replacing them, not only will you normally save some money, but you will stop them from becoming waste.
However, if you're not the kind of person who can do something like that, it's time to recycle them.
Where do you take electronics to be recycled?
You've decided you're going to recycle your old TVs, computers, and cell phones.  But where do you start?
If you live in Erie County, you can check out their Electronics Recycling Page for all the info you need, or join their Mailing List to find out when another event is coming up.
**See everything that can and cannot be recycled below**
If you're in Niagara County, there is an event coming up in September at the Fashion Outlets of Niagara Falls.  It's September 16th, 2023 from 8:30 am - 2 pm.  You will have to register.  All the info can be found by clicking here.
What is the process like?
It's actually a very simple process to recycle old electronics.  First, you must register for a time that you can stop by.  Then, load up your electronics in your trunk and drive to the recycling event.  You don't even have to get out of your car.  It's a complete drive-through experience.  You will get in line and when it's your turn, a team member will unload your neatly organized pile of electronics.  Then you pull away.  It's that easy.
What can and can't you recycle?
There is a complete list of things that you can and can't recycle here.  Obviously you can't recycle anything that is considered hazardous waste or things that contain liquids.  Some things that you might be surprised you CAN'T recycle include
CDs, DVDs, VHS tapes, and cassette tapes
Broken/bare CRT (tube) TVs or monitors
Devices containing refrigerant (A/C units, water coolers, dehumidifiers, refrigerators, wine chillers, etc.)
However, the list of things you CAN recycle is pretty big.  It includes things like:
Computers (Desktop & Laptop)
Monitors (Flat screen & CRT)
Fax machines
Video & audio equipment
Phone systems
Computer accessories (Mice, Keyboards, Webcams, Speakers, Microphones)Copiers & Multifunction devices
Most small appliances (No freon)
Microwaves
Toasters
Vacuum cleaners
Coffee makers
Irons
Curling irons
Hair dryers
and more...click here for the full list.
How To Recycle Cardboard In Buffalo
7 Things That Are Illegal To Throw Out In New York State
Do These 10 Things In And Around Buffalo Before Summer's Over
Make sure you recruit your family and friends to join you at one of these Western New York summer staples and make some summer memories - before it's too late.