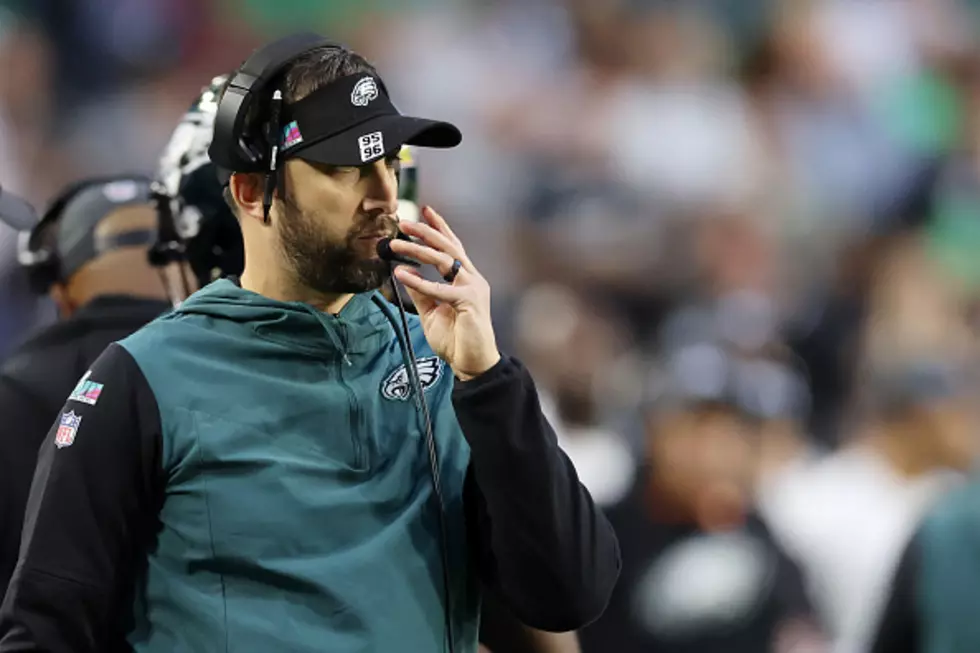 Bills Player Posts Hilarious Tweet About the Eagles Losing
Getty Images
It's hard to believe that the 2022 NFL season is over. The season officially concluded after the 38-35 win by the Kansas City Chiefs over the Philadelphia Eagles in Super Bowl 57.
The game was one of the most entertaining big games we have seen in recent years. The second half especially featured many big moments and back-and-forth play by both teams.
In the end, a questionable defensive holding penalty by cornerback James Bradberry allowed the Chiefs to get a first down in the red zone...which ultimately allowed the Chiefs to run out the clock and kick the game-winning field goal.
The National Anthem was also a pretty great moment, as country music star Chris Stapleton had many people speechless before kickoff. Eagles head coach Nick Sirianni was seen crying on the sideline during Stapleton's anthem rendition.
Bills tight end Quintin Morris decided to have some fun with the Eagles head coach on Twitter, referring to Sirianni crying because he saw the "game script."
If you do not know what Morris is referring to, former NFL running back Arian Foster said a few weeks ago on a podcast that the NFL was completely scripted, even outcomes of games. He was obviously joking, but that led to many fans and media members have some fun with past NFL events and whether or not they were scripted.
I felt bad for the Eagles, because that's a tough call to make in that moment of the game. If Bradberry's penalty does not take place, the Chiefs kick a field goal and they would have had well over a minute to drive down to tie or win the game.
17 Recipes They Have To Put In The Bills New Cookbook
22 Famous Buffalo Sports Phrases Every Die-Hard Bills and Sabres Fan Knows
Being a sports fan in Buffalo is sometimes like knowing a different language. Here are 22 of our favorite Buffalo sports phrases you already know if you're a huge fan! And if you're new here, here's how to catch up.
16 Buffalo Bills With Some Of The Best And Worst Nicknames