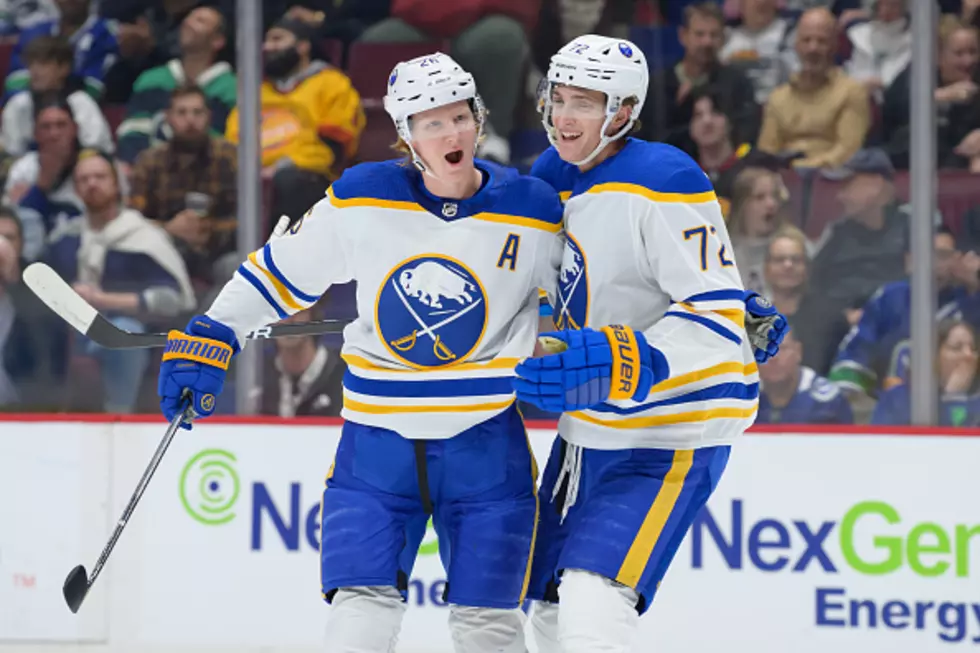 Rasmus Dahlin Writes Emotional Open Letter to Buffalo
Getty Images
The Buffalo Sabres have one game left before the NHL All-Star break.
Buffalo hosts the Carolina Hurricanes tomorrow night at KeyBank Center in what's an important game for the Sabres playoff race.
The Sabres sit just one point out of the final wild card spot in the Eastern Conference, while they are two points back of the first wild card spot, with three games in hand the team who currently occupies it (the Washington Capitals).
The Sabres are good for the first time since 2011 and that's also the last time they made the playoffs. Fans are back in the building and while it's not yet at the level it was for those first few years after the 2004-2005 lockout, it's a whole lot better than it's been in recent years.
The arena is rocking again and the Sabres have a much better record at home when the capacity is near full. It's clear the players are feeding off that energy.
One of those players is star defenseman Rasmus Dahlin.
Dahlin is on pace for almost 100 points this season. His breakout season has been fun to watch and he's also becoming a leader in the locker room and the community.
Dahlin surprised the City of Buffalo and Sabres fans everywhere with a heartfelt open letter on Tuesday.
Rasmus admitted he didn't realize how important Ryan Miller was to the community and he saw that first hand for Ryan Miller night two weeks ago, along with talking to those players on those great Sabres rosters.
The bulk of the open letter, however, addresses the energy the players get when fans are in KeyBank Center the place is rocking.
Dahlin says it's like the crowd and the players are together as one, when the arena is full.
My favorite quote is "together we are going to break the other team mentally, that's what it feels like."
Rasmus Dahlin is a superstar player on and off the ice. He gets it.
Top 10 Most Underrated Buffalo Sabres of All-Time
Buffalo Sabres Goalie Masks
Take a look at some amazing Goalie Masks in Buffalo Sabres history.
[carbongallery id="609e92247c0f57515fc0f3d4"