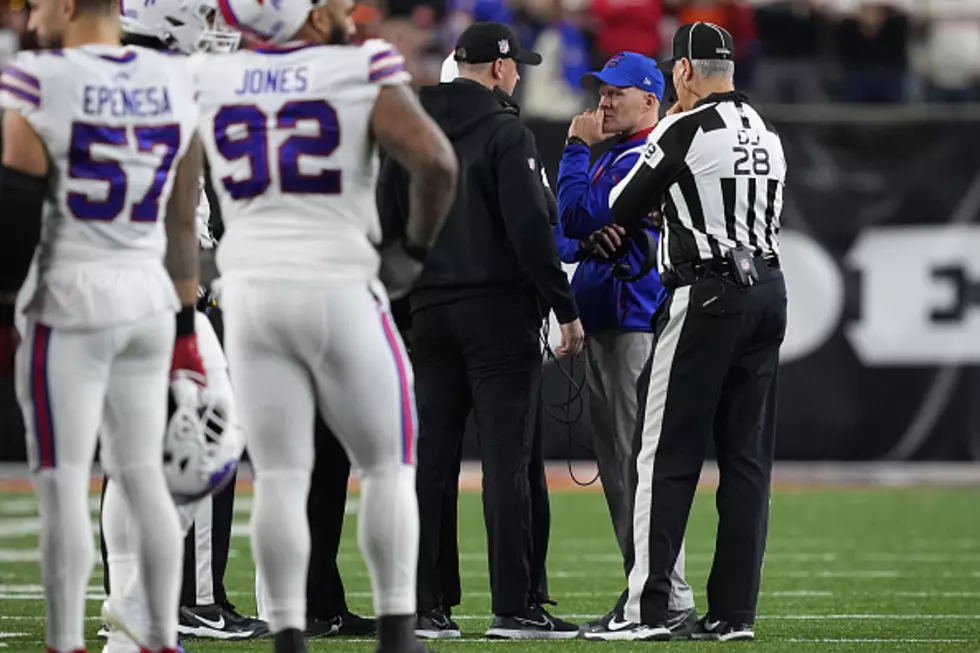 Zac Taylor: "Sean McDermott Said He Needed to Be at the Hospital"
Getty Images
Buffalo Bills safety Damar Hamlin remains in critical condition and in the care of the ICU at the University of Cincinnati's Medical Center.
The Bills updated the public on the condition of Hamlin, saying he has made progress from yesterday and the overnight, which is encouraging in his recovery.
Hamlin collapsed on the field after a tackle. He had to be given CPR and had hiss heartbeat restored, before being taken by ambulance.
There was a lengthy delay on the field before players went back into their respective locker rooms and then the word that the game would be called off for the evening.
We don't know exact specifics on what happened on the field from the time Hamlin left for the hospital and the game ultimately being postponed for the evening, but we now do know what Bills head coach Sean McDermott and Bengals head coach Zac Taylor talked about when they congrigated with one another on the field.
Taylor spoke with the media for the first time since Monday night's events and spoke about what McDermott said to him. It's clear that McDermott made the call to not play the game.
Taylor said that McDermott said to him, "I need to be at the hospital for Damar. I shouldn't be coaching this game."
Zac Taylor said that in that moment, McDermott was leading.
Taylor's response is also something that should not go unnoticed. Him and McDermott handled the situation with grace and leadership that we can only hope from every new head coach in the NFL from here on out.
Taylor was also at the hospital to check on Damar Hamlin.
Sean McDermott deserves coach of the year for what he has done for his players and the Buffalo community. He's navigated an incredibly unfathomable set of events this season and the Bills were still in a position to claim the AFC's one seed.
16 Buffalo Bills With Some Of The Best And Worst Nicknames
22 Famous Buffalo Sports Phrases Every Die-Hard Bills and Sabres Fan Knows
Being a sports fan in Buffalo is sometimes like knowing a different language. Here are 22 of our favorite Buffalo sports phrases you already know if you're a huge fan! And if you're new here, here's how to catch up.
15 Hilarious Buffalo-Themed Coffee Mugs For Bills Fans And More
In honor of National Coffee Day, here are fifteen sweet mugs to hold your hot cup of joe while proclaiming your love for Bufflalo.