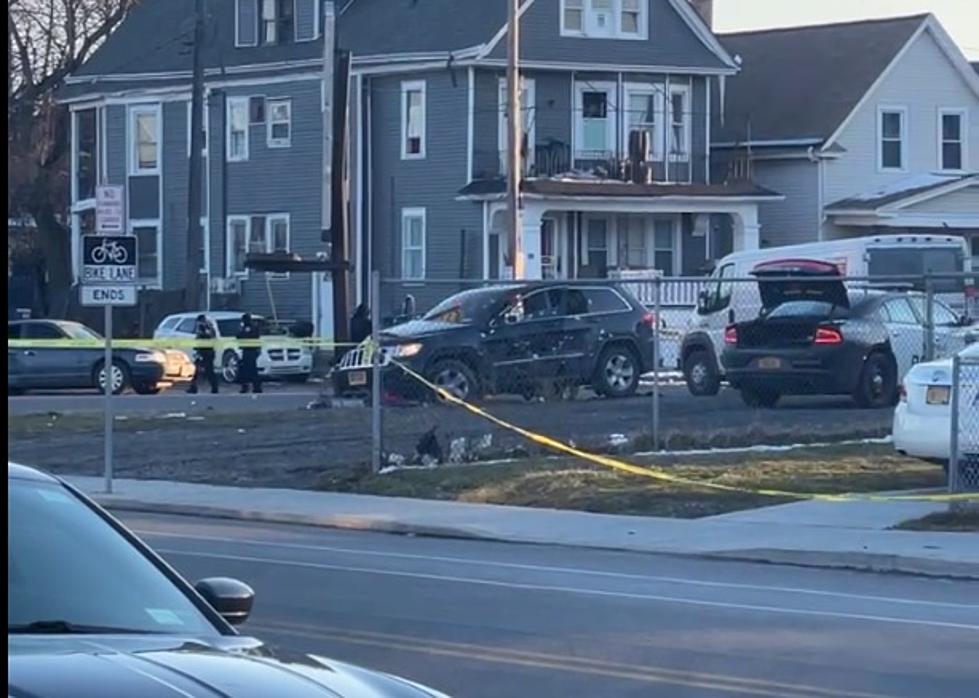 [VIDEO] Shots Fired During High Speed Buffalo Police Chase
Facebook User / BillyClough
Breaking News
Update
- 8:50 p.m.
Buffalo Mayor Byron Brown, Buffalo Police Commissioner Joseph Gramaglia, and Erie County District Attorney John Flynn provided an update during a press conference that occurred at the Erie County Medical Center.
According to Commissioner Gramaglia, the chase began around 6 p.m. at the Foot of Ferry Street on Buffalo's West Side and proceeded into the Upper West Side, into the Black Rock Neighborhood with the suspects turning onto the Scajaquada Expressway. The chase continued on the Scajaquada Expressway to the East Bound Kengsington Expressway, into the Bailey Ave. area, and proceeded throughout the East Side. During the chase, it's alleged that the suspects fired weapons continuously at Buffalo Police Officers.
The chase ultimately ended near the corner of E. Ferry St. and Fillmore Ave. where a gun battle ensued. At this time officials are also not able to confirm exactly how many shots were fired during the gun battle.
These suspects showed no regard to the community... These are clearly very dangerous people.
-Byron Brown, Mayor of Buffalo, New York
It has been confirmed that 3 officers had been shot, the injuries to all three are non-life-threatening and all are expected to make a full recovery. At least one officer has already been released from the Erie County Medical Center and has returned home.
Police officials advised there are 2 suspects in custody at this time, one was shot by officers during the gun battle and is being treated at the Erie County Medical Center. The other is being held by officers in Downtown Buffalo. At this time Commissioner Gramaglia declined to release their names.
There are multiple crime scenes across the city that have the attention of police investigators, including the area near Ferry and Fillmore. All of the areas in question are closed for traffic.
Update
- 8:09 p.m.
Here's a different Facebook Live video showing the aftermath of the chase and shooting from a different angle.
Update
- 7:41 p.m.
The Buffalo Police Department issued a statement via Twitter stating that 3 officers were shot during the high-speed pursuit, and they suffered non-life-threatening injuries.
At this time it's also being reported by police officials that multiple people are in custody.
There is also a very large police presence at the Erie County Medical Center.
Original Story
- 7:09 p.m.
There are reports of a high-speed chase involving Buffalo Police in the Ferry Fillmore neighborhood in Buffalo.
There is a Facebook Live video showing the tail end of the chase which ends with a car in a vacant lot and what appears to be dozens of shots fired by Buffalo Police Officers.
We're working to gather more details and will update this story as more information becomes available.
11 New York Cities With The Most Violent Gun Crimes
6 New York Counties Have Most Violent Young Criminals
Cheapest Home for Sale in Buffalo
There are some really swanky houses for sale in Buffalo, and there are some that are the exact opposite. Check out these photos to see what you can get for $15,000