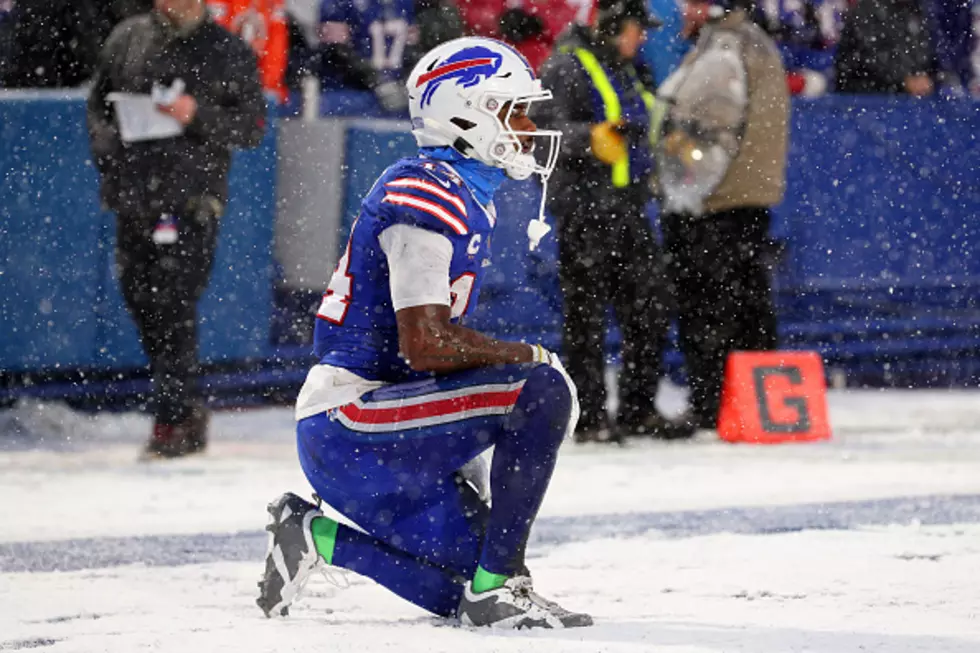 Stefon Diggs Upset at Josh Allen On the Bills Sideline [VIDEO]
Getty Images
It was a brutal way to end the season for the Buffalo Bills.
The Bills lost to the Cincinnati Bengals in the AFC Divisional round on Sunday, 27-10. The game was a total domination by the Bengals in every possible way.
The Bills lost the game at the line of scrimmage and coaching -- those were the two glaring takeaways from Sunday afternoon.
The Bills defensive line could not generate any pass rush on a Bengals offensive line that was missing three starters, which allowed Bengals quarterback Joe Burrow all day to throw, especially in the first half.
The Bills offensive line was equally dominated by the Bengals front seven on defense, which caused Bills quarterback Josh Allen to be chased and under duress all game.
Stefon Diggs only caught four passes for 35 yards and Diggs was visibly frustrated when the Bills were trailing in the second half. CBS caught this video of Diggs visibly upset with Josh Allen on the Bills sideline.
Allen did not look up at Diggs. It looks to be QB coach Joe Brady sitting next to Allen.
Diggs was seen leaving the locker room before the entire coaching staff made its way into the locker room.
Allen missed two big throws, one to Diggs on the third offensive play of the game for the Bills and the other two Diggs in the end zone.
This game was clear that the Bills need more at the skill positions after Diggs. They desperately need a true number two wide receiver and even more after that. They also need upgrades on the offensive line.
The Bengals outcoached the Bills today on both sides of the ball, but Burrow has both Ja'Marr Chase and Tee Higgins; two legitimate number one wide receivers. That forces teams to play the Bengals different. The Bengals (and the Dolphins last weekend), were not scared of the Bills weapons after Diggs. That needs to change.
The Bills need upgrades and some changes. No, Josh Allen and Sean McDermott are not going anywhere, but yes, they need sizable changes on offense and on defense...especially offense.
16 Buffalo Bills With Some Of The Best And Worst Nicknames
Complete List Of Buffalo Bills Available On Cameo
16 Buffalo Bills With Some Of The Best And Worst Nicknames