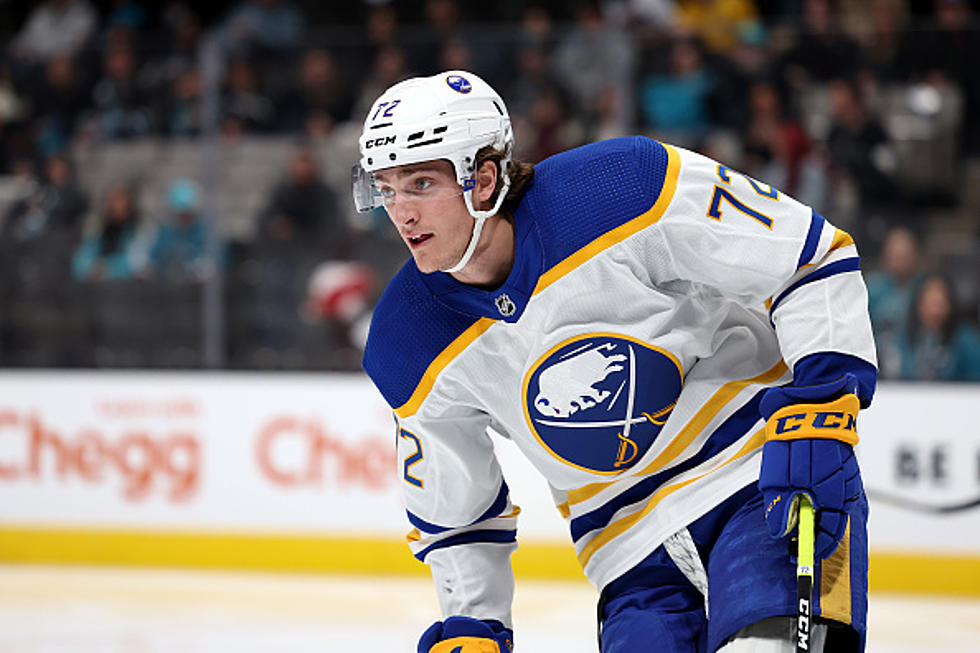 Sabres Star Tage Thompson Now Has a Mullet [PHOTOS]
Getty Images
The playoff drought for the Buffalo Sabres will likely extend to a 12th year, as Buffalo got embarrassed by the Nashville Predators at KeyBank Center on Tuesday night.
The Sabres lost 7-3 and at one point, Nashville scored six goals on eight shots, which is beyond incredible. It was goaltender Craig Anderson's worst game as a member of the Sabres and one of the worst defensive games the team has played all season.
Sabres star center Tage Thompson has 43 goals and 88 points this season, but his pace has slowed over the last 10-12 games.
Thompson made news before puck drop on Tuesday. The star center showcased a new mullet haircut during pregame warmups.
The mullet has made a huge comeback in hair style over the last several years and it looks great on Thompson.
The Sabres are now seven points out of a playoff spot and have fallen so far behind, they're actually now the last team in the NHL Lottery, which would be the Connor Bedard sweepstakes.
Goaltender Devon Levi is now with Buffalo, signing his professional contract this past Friday. It's still not decided if Levi will get games in before the end of the season, but general manager Kevyn Adams confirmed that Levi will remain with the Sabres the rest of the season.
It would probably be best if Levi started two or three games, just to get a taste of NHL action. You don't want to shellshock a goalie that young, but it would be a good gauge on where he is in his development.
6 Best Trades in Buffalo Sabres History
Taking a look at the absolute best trades in Buffalo Sabres history.
Top 10 Most Underrated Buffalo Sabres of All-Time
22 Famous Buffalo Sports Phrases Every Die-Hard Bills and Sabres Fan Knows
Being a sports fan in Buffalo is sometimes like knowing a different language. Here are 22 of our favorite Buffalo sports phrases you already know if you're a huge fan! And if you're new here, here's how to catch up.