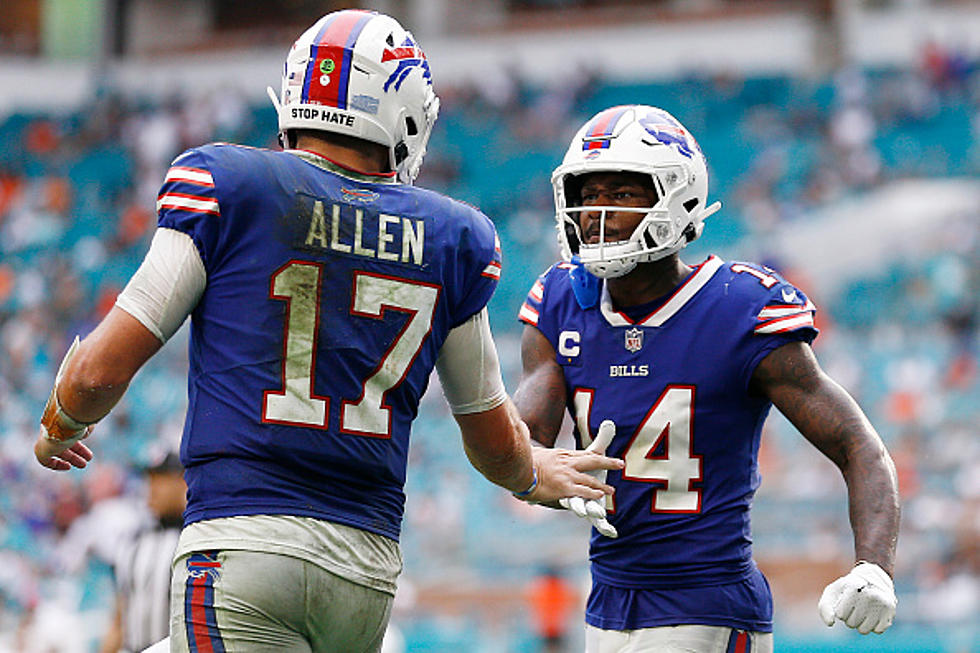 The Best and Funniest Buffalo Bills Tweets After Huge Win at Miami [PICS]
Getty Images
It was a huge sigh of relief from Bills Mafia on Sunday around 4 pm.
The Buffalo Bills defeated the Miami Dolphins on Sunday, 35-0, in what was the first road shutout the Bills have had since 2016.
It was a dominant performance from the Bills defense, as they forced multiple turnovers and six sacks on Dolphins quarterbacks (Jacoby Brissett and Tua Tagovailoa). Leading the way was edge rusher, A.J. Epensea, who may have been the best Bills player on Sunday, other than cornerback Taron Johnson.
The Bills offense looked much better in the second half, after struggling the second quarter and much of the first quarter (this after two touchdowns on the first two possessions).
The fun was evident from Bills fans on Twitter and it was great seeing all the Buffalo Bills reporters and Buffalo media reporting on the Bills players and coaches speaking after the win.
Here is a recap of some of the best that Bills Twitter had to offer on Sunday after the win at Miami.
I love how the Bills are having more fun on Twitter and social media in general, over the last several years. It really creates a sense of family between the Bills and the fanbase and makes game days more fun.
The Bills next play against The Washington Football Team next Sunday at Highmark Stadium in what will be the Bills' first game against an NFC opponent in 2021.
20 Restaurants In WNY The Food Network Should Feature
We love so many restaurants in Buffalo and The Food Network should highlight way more of them.
This $1.7 Million Home In East Aurora Is Breathtaking
Step inside this
amazing home
in East Aurora that has its own breakfast bar!
PEEK INSIDE: Derek Jeter is Selling His Stunning Hudson Valley Lakeside Castle For Discounted Price
15 Iconic Retail Stores That Don't Exist Anymore (But We Totally Miss Shopping At)