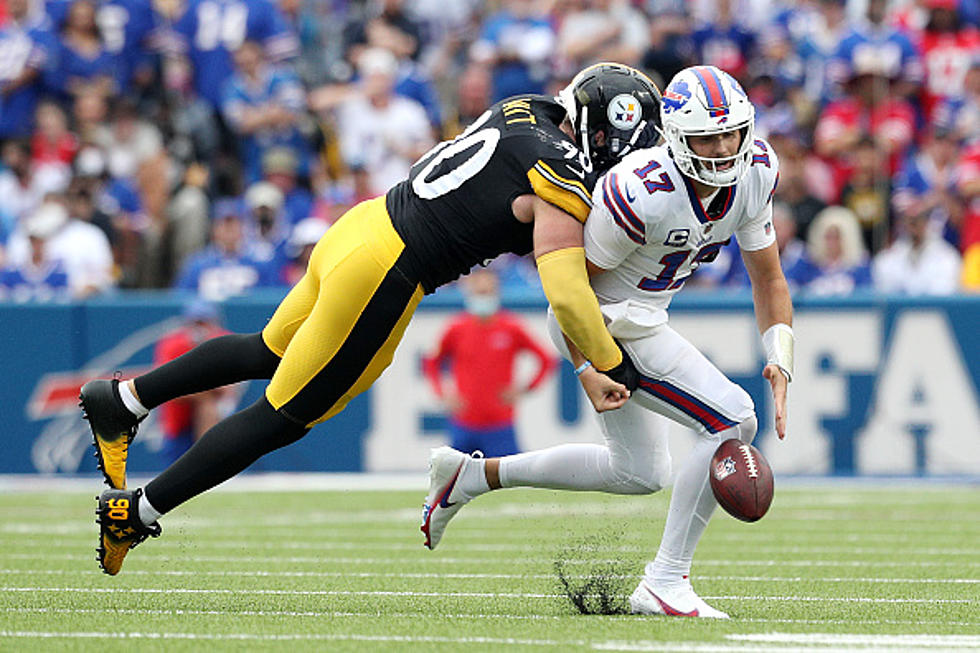 This Stat Shows Just How Bad The Buffalo Bills Were Dominated Yesterday
Getty Images
It was a rough day at the office for the Buffalo Bills on Sunday to open the 2021 regular season.
The Pittsburgh Steelers beat the Bills, 23-16, at Highmark Stadium in front of over 70,000 fans in attendance, as the Bills lost their first opener since the 2018 season.
There are many reasons why the Bills lost to Pittsburgh, but one big reason was the play of the Bills' offensive line.
If you watched the game on Sunday, it was clear the Steelers' defensive front dominated the Bills' offensive line from the very first series. Quarterback Josh Allen had pressure in his face for a large chunk of the snaps; it was especially evident from the edge rushers, T.J. Watt and Melvin Ingram.
Pro Football Focus released team grades on Monday after games, for all units of every team, including the offensive line. The grades are calculated based on analytic criteria that give an overall grade to how a group performed.
The Bills offensive line had a horrible day on Sunday, as evidence by the extremely poor grades given out by PFF.
Tackles Dion Dawkins and Daryl Williams were beaten multiple times by T.J. Watt and Melvin Ingram. Here are some of the worst snaps of the day from the Bills tackles.
Daryl Williams was beaten by T.J. Watt on the strip-sack of Josh Allen, although Allen had broken free of the pocket, which made it easier for Watt to track him down and get away from Williams.
The Bills will need to clean up the offensive line troubles going into next week against Miami, who has a very good defense and are a well-coached and disciplined team on both sides of the ball.
Check Out The 11 Most Underrated Bills Defensive Players In The Past 30 Years
I wanted to comb past the amazing defenses the Bills have had over the past 30 years and put the spotlight on some stellar role players who help lead the team to the playoffs and beyond. We are talking about players that maybe didn't get lots of love from the National media or made tons of Pro bowls, but we were still proud that they were part of the team.
25 Things You Need To Do In Buffalo and WNY This Fall Season
The best 25 things to do in Western New York this fall season.
CHECK IT OUT: 100 sports records and the stories behind them