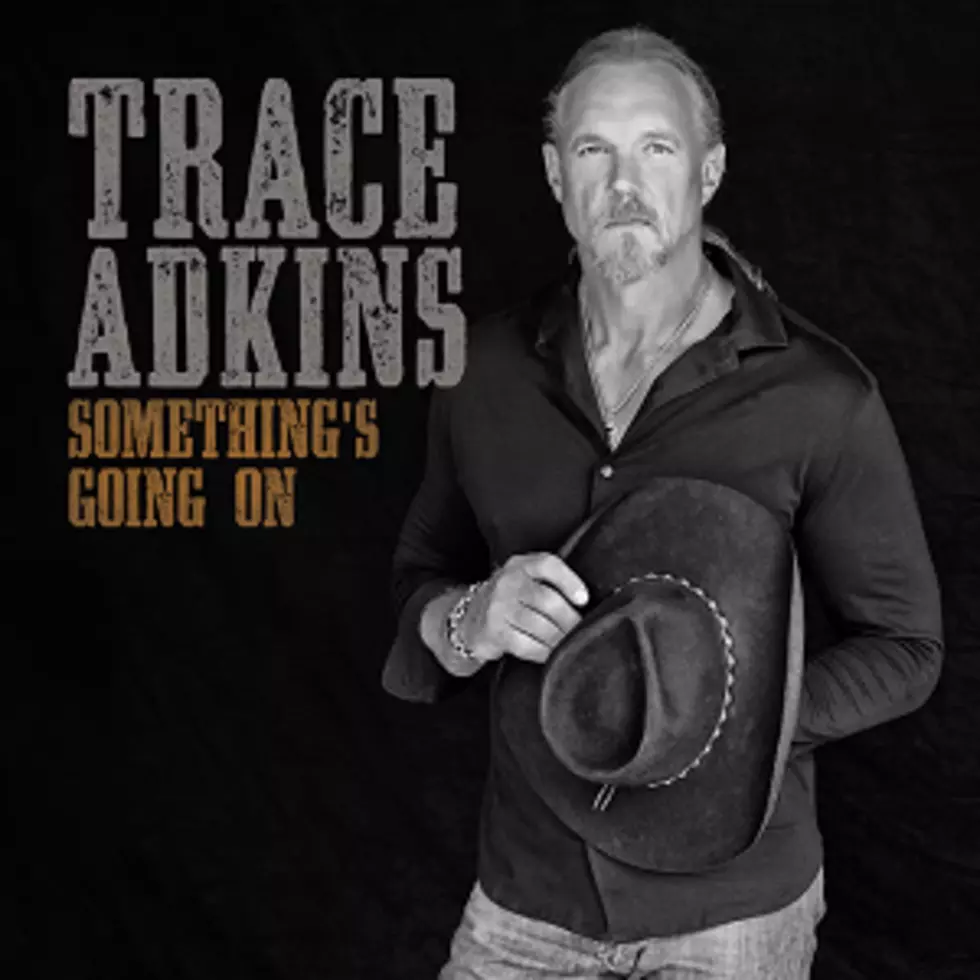 Trace Adkins to Release New Album, Hit the Road in 2017
Wheelhouse Records
Trace Adkins had two big pieces of news to share with fans on Tuesday (Jan. 24): Not only will he be releasing a brand-new album in March, he'll also be hitting the road for a tour!
Adkins' 12th studio album, Something's Going On, will drop on March 31; it will be his first release on BBR Music Group's Wheelhouse Records. Although Adkins has previously released "Jesus and Jones" and "Lit" as singles, and both will appear on the record, a press release reports that the song "Watered Down" will be the project's first official single.
"When I first heard "Watered Down," I felt an immediate connection with what I wanted to say," Adkins explains. "A man comes to a point in his life where he begins to reflect on his past and what he's learned, and that's what fueled this song. If you've led the kind of life I've led, at some point you have to temper your vices."
Something's Going On, which is available for pre-order on iTunes, was produced by Mickey Jack Cones; songwriters featured on the project include Tyler Farr, Craig Campbell and more. Adkins last released a studio album, Love Will ..., in 2013.
Trace Adkins, Something's Going On Track Listing:
1. "Ain't Just the Whiskey Talkin'" (Terry McBride, Brett Beavers)
2. "Jesus and Jones" (Tyler Farr, Jim McCormick, Casey Beathard)
3. "Watered Down" (Matt Jenkins, Trevor Rosen, Shane McAnally)
4. "Something's Going On" (Chris Cavanaugh, Mark Stephen Jones)
5. "If Only You Were Lonely" (Jon Coleman, Troy Johnson)
6. "Gonna Make You Miss Me" (Tommy Lee James, Matt Nolan, Andrew Dorff)
7. "I'm Gone" (Craig Campbell, Max T. Barnes)
8. "Country Boy Problems" (Tommy Lee James, Josh Osborne)
9. "Lit" (Mickey Jack Cones, Monty Criswell, Derek George)
10. "Still a Soldier" (Phil O'Donnell, Wade Kirby)
11. "Whippoorwills and Freight Trains" (Phil O'Donnell, Jeff Middleton, Brandon Kinney)
12. "Hang" (Lynn Hutton, Phil O'Donnell)
New Country, Americana, Alt-Country, Bluegrass and Folk Albums Coming in 2017
Fans will get to hear Adkins perform his new music on the road throughout 2017 as well: On Feb. 4, the singer will launch a new tour in Orlando, Fla. A total of 30 dates have been announced so far, with more coming. A list of those currently announced dates is below, and more information about each stop is available on TraceAdkins.com.
Trace Adkins, 2017 Tour Dates:
Feb. 4 – Orlando, Fla. @ Universal Studios Mardi Gras Celebration
Feb. 25 – Parker, Ariz. @ BlueWater Resort Amphitheater
March 23 – Glenside, Pa. @ Keswick Theatre
March 24 – Staten Island, N.Y. @ St. George Theatre
March 25 – The Paramount, Huntington, N.Y.
April 6 – Canton, Ohio @ Palace Theatre
April 7 – Waterloo, N.Y. @ Del Lago Resort and Casino
April 8 – Greensburg, Pa. @ Palace Theatre
April 9 – Baltimore, Md. @ Lyric Opera House
April 21 – Worcester, Mass. @ Mechanics Hall
April 22 – Hampton Beach, N.H. @ Hampton Beach Casino Ballroom
April 23 – Easton, Pa. @ State Theatre
April 27 – Orange Park, Fla. @ Thrasher-Horne Center for the Arts
April 28 – Hiawassee, Ga. @ Anderson Music Hall
April 29 – Biloxi, Miss. @ Mississippi Coast Coliseum Crawfish Festival
May 5 – Lake Charles, La. @ Golden Nugget Casino
May 6 – Hope, Ark. @ University of Arkansas
May 18 – Morristown, N.J. @ Mayo PAC
May 19 – Salem, Va. @ Salem Civic Center
May 20 – Renfro Valley, Ky. @ Renfro Valley Entertainment Center
May 21 – Lancaster, Pa. @ American Music Theater
May 26 – Osceola, Iowa @ Lakeside Outdoor Theater
May 27 – Davenport, Iowa @ Rhythm City Casino Resort Event Center
June 30 – Branson, Mo. @  Welk Resort & Theater
July 1 – Durant, Okla. @ Choctaw Grand Theater
July 20 – Wabash, Ind. @ Honeywell Center
July 21 – Peoria, Ill. @ CEFCU Center Stage
July 22 – Eau Claire, Wis. @ Country Jam USA
Aug. 5 – Sidney, Mont. @ Richland County Fair
Aug 18 – Aberdeen, S.D. @ Brown County Fairgrounds
2017's Country, Americana, Alt-Country, Bluegrass and Folk Tours
Unforgettable Trace Adkins Moments