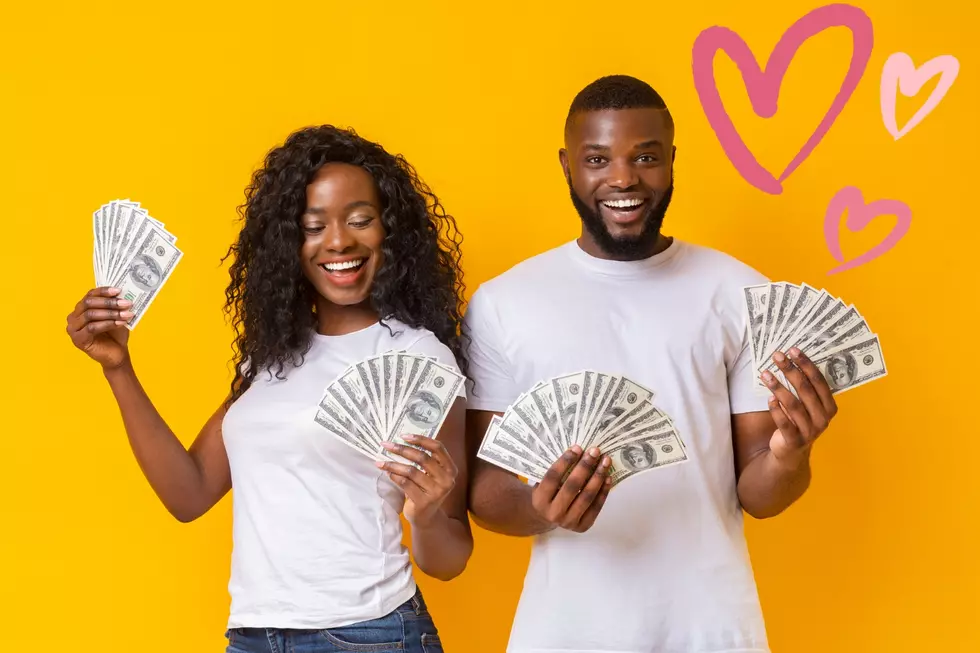 15 Places To Get Free Stuff & Discounts This Valentine's Day In New York State
Canva
Valentine's Day is the ultimate day to celebrate love - and boy, do we love saving money. 
Date night has gotten pretty pricey here in New York State. A recent survey from the banking site Lending Tree found that one in five Americans are going on fewer dates due to inflation. They also found that the cost of the average first date has jumped to an average of $91. Yikes!
Thankfully, many chain restaurants in New York State are offering big savings and even some free stuff this Valentine's Day, so you can still go out and have a proper date night without potentially going broke.
Don't have anyone to grab a bite with this Valentine's Day? There are still plenty of ways to save some coin on Valentine's Day. Or, get two meals for yourself and put one in the fridge to enjoy later in the week. No judgment here!
It's recommended that before you hit the town to take advantage of these Valentine's Day deals that you give your closest location a quick call to make sure they're offering the promotion in your area.
Here are 15 spots to save money this Valentine's Day in New York State.
Applebee's
Participating Applebee's locations are offering their Smoocho Mucho Sips cocktails for just $6. 
Auntie Anne's
Get an original or cinnamon sugar Auntie Anne's pretzel BOGO this Valentine's Day, and/or $5 off any pretzel bucket. 
Bonefish Grill
Get a full meal of scallops, shrimp, two sides, and filet mignon for just $34.90 this Valentine's Day. 
Burger King
If you're one of BK's Royal Rewards members, you can get a BOGO Whopper on February 14th. 
Chili's
Get a Grand Romance 'Rita for just $6 on Valentine's Day at Chili's. 
Cinnabon
Score two classic rolls and two cold brew coffees for just $15 at Cinnabon, not just on Valentine's Day but through March 1st. 
Cracker Barrel
If you're spending your Valentine's Day doing breakfast, lunch, or dinner at Cracker Barrel, you can get a free dessert to share (up to $5.49 value) with the purchase of two entrees. Participating locations vary. 
Hooters
Spending Valentine's Day solo? Get a coupon for BOGO 10 wings with Hooters' "Shred Your Ex" promotion. 
Jamba Juice
Rewards members can get $2 off two smoothies, juices, and bowls this Valentine's Day. 
Moe's Southwest Grill
If your sweetheart loves hearing "Welcome to Moe's!" as much as you, get a $5 rewards coupon when you purchase a $25 gift card to Moe's Southwest Grill through Valentine's Day. 
Olive Garden
Get a take-home pasta entree for just $6 when you dine in or take out at Olive Garden on February 14th. 
Outback Steakhouse
Get a four-course meal for two for just $60 on Valentine's Day. Each course includes a choice of four entrees, grilled shrimp, a side salad, and a slice of cheesecake to split. 
Peet's Coffee
Love your morning cup of Joe? Save 15% off Peet's entire website with the code VALENTINE. 
Wendy's
Get a free any-size fry with any purchase on the Wendy's app through February 19th. 
White Castle
Get a "love cube" meal, including eight sliders, two sides, and two small drinks, for just $14.99 - that's almost a 50% discount. 
New York Towns That Are Perfect For Valentine's Day
Valentine's Day is coming this weekend and there are some perfect towns and cities in New York to celebrate in.
12 Perfect Valentine's Day Cards For Bills Fans
Show your Buffa-Love with these Buffalo Bills-themed Valentine's Day cards.