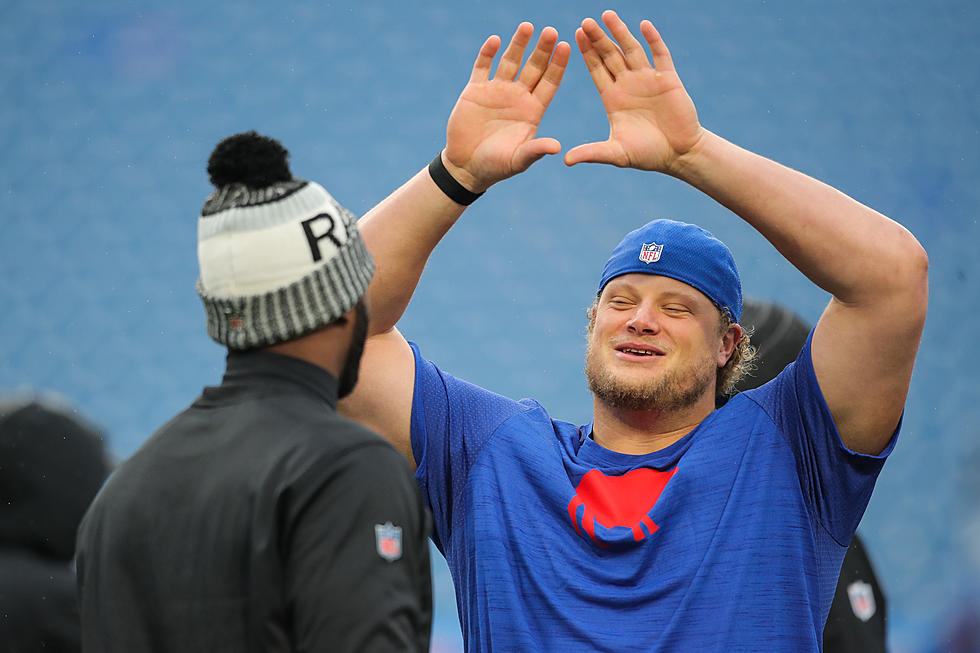 Watch Eric Wood Sing On Stage With Michael Ray….And It's Bad
Getty Images
Eric Wood is one of the nicest guys that has ever passed through the Buffalo Bills organization. The center has been involved with so many charities during his time here in Western New York. He started the Eric Wood Fund which was a critically important resource for the patients and families at Oishei Children's Hospital in Buffalo.
Eric is one of those people that made a major impact on the Buffalo community on and off the field that will forever have a long-lasting impact.
That being said. He is not the best singer LOL
Eric Wood, who is from Louisville, was at a Michael Ray concert down in his hometown when Michael Ray invited him to come up and sing on stage. The two did a rendition of Toby Keith's 'Shoulda Been A Cowboy' and it was uhhhhhhh.....not good. But, does it really matter? Not really because the crowd went absolutely nuts and loved their hometown boy singing with Michael Ray.
The two are good friends though because they met here in Buffalo at the WYRK Taste of Country. That was the year that the Taste of Country was headlined by Rascal Flatts, Justin Moore, Randy Houser and Michael Ray. Wood took to Instagram to post the fun day with Michael Ray.
Slide all the way to the last post on the left to see the two of them sing that Toby Keith classic.
"What a blast at our first live concert with a crowd since pre Covid! @michaelraymusic thank you and your crew for the great time and the hospitality. Thanks for also letting me feel what it's like to sing in front of a crowd like that. What a rush! Swipe to the end and give me some feedback!"
13 Pictures That Show Just How Crazy and Loyal Buffalo Bills Fans Are
CHECK IT OUT: 100 sports records and the stories behind them