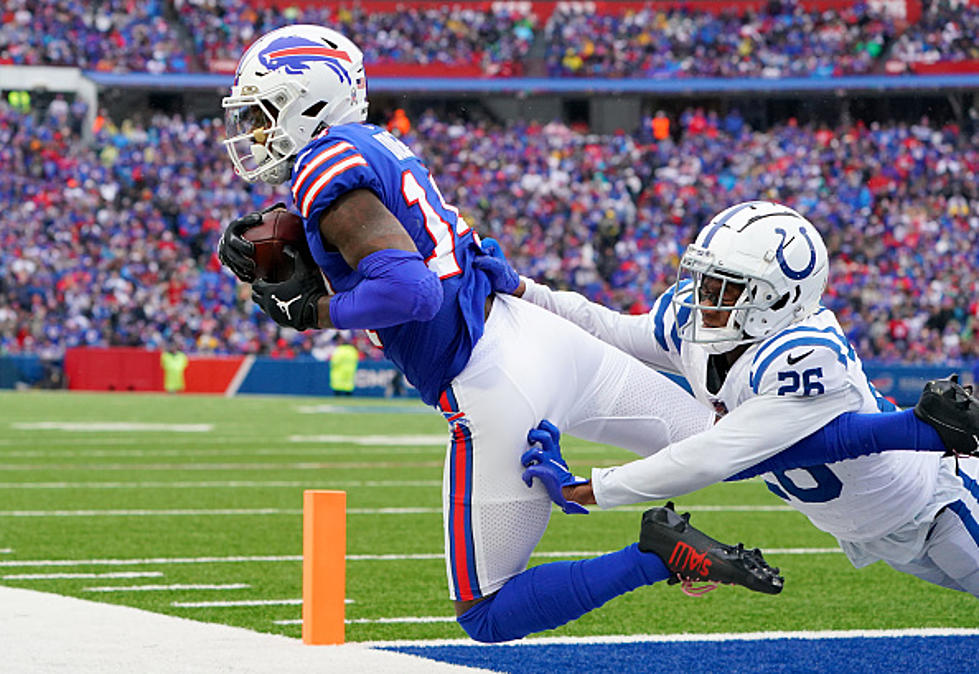 What Stefon Diggs Says at Bills Press Conference Goes Viral [WATCH]
Getty Images
The Buffalo Bills are working with a short week, as they have to travel to New Orleans tomorrow to play the Saints on Thanksgiving night. It's the Bills second Thanksgiving game in three years, but their first in the night time slot at 8:20 pm.
Stefon Diggs is having a good season, catching 60 passes for nearly 800 receiving yards and six touchdowns, although he's behind last season's monster stats of 127 catches and over 1,500 receiving yards (16 games).
On Monday night, ESPN ran a two-minute clip of Stefon at a recent Buffalo Bills press conference, talking about mental health and taking care of yourself.
The speech that Stefon gave had everyone taking notice, and it ended up going viral on Twitter -- achieving 3,000 retweets and nearly 15,000 likes.
Listen to what Stefon had to say and take it to heart.
Stefon was asked halfway through the clip about Atlanta Falcons wide receiver Calvin Ridley, who recently stepped away from his team and football to focus on his mental health issues. There's currently no timetable for Ridley's return.
Diggs said in part:
"I used to be a tough love guy, 'cause I used to do that with my little brothers, but I feel like I had to take a step back from being that way just because it's not all about tough love; you have to love them up sometimes," says Diggs.
"You don't understand how hard the battle is for them," added Diggs.
Diggs is always a wonderful interview, and he always gives honest and sincere answers to media questions. What he's saying about Ridley and mental health is absolutely right.
Places In The 716 Promising Mental Health Help When You Need It
The Top 30 Beef on Weck Restaurants In WNY
The 30 best places for beef on weck in Western New York.
The Top 40 Pizza Places in Western New York
The best pizza spots in Buffalo!