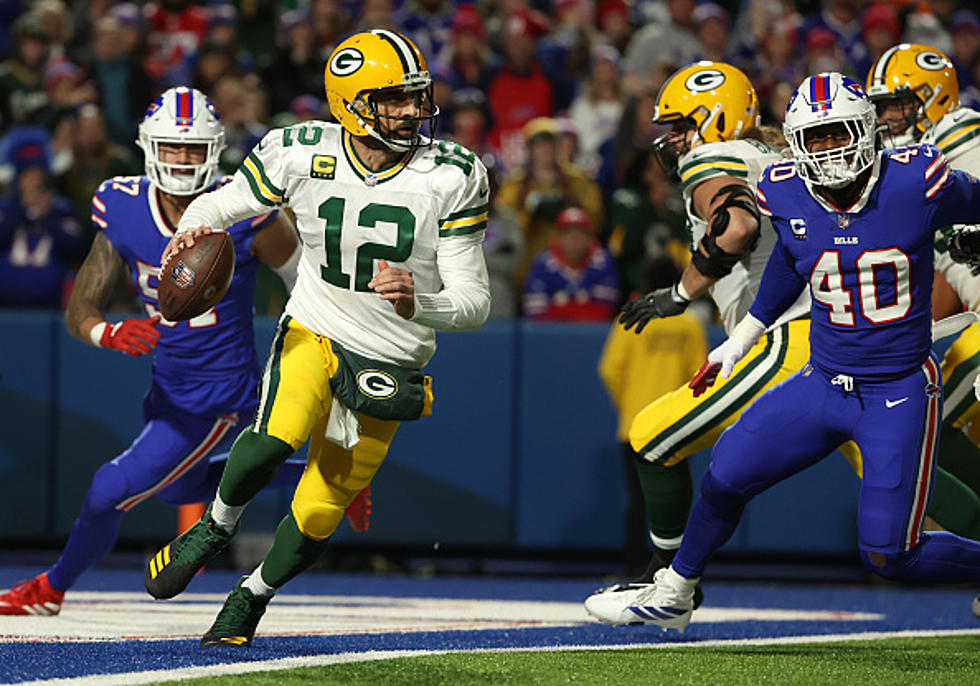 Aaron Rodgers Coming to a Buffalo Bills Rival?
Getty Images
The NFL off-season is about to extremely busy.
Next Monday is when the legal tampering period begins for free agency. The actual free agency period starts next Wednesday at 4 pm, which is when teams can start signing players to their rosters. It's become a hectic few days for NFL teams, players and fans.
However, the trade market is also heating up and we could see some pretty huge names traded by the start of the 2023 NFL Draft.
The biggest name we could see get moved in the coming days is Green Bay Packers quarterback and future Hall of Famer, Aaron Rodgers.
Rodgers said after the end of the Packers season that he would need time to make a decision: whether that be retiring, returning to the Packers or getting traded to another team.
Rodgers recently came out of a vacation, where he got his mind cleared, which was the deadline for a decision that many media outlets have reported.
It looks like Rodgers is exploring a trade out of Green Bay, and that could be to a Buffalo Bills division rival.
According to Dan Graziano of ESPN, talks between Aaron Rodgers and the New York Jets will continue into Tuesday...
It's not clear whether or not this will happen or if Rodgers ends up retiring, but the Jets make a lot of sense for a destination.
They have win-now roster and a youthful roster. Great defense and great, young weapons at running back and wide receiver. It's also the largest market in the country.
Rodgers to the Jets is at least a possibility.
16 Buffalo Bills With Some Of The Best And Worst Nicknames
22 Famous Buffalo Sports Phrases Every Die-Hard Bills and Sabres Fan Knows
Being a sports fan in Buffalo is sometimes like knowing a different language. Here are 22 of our favorite Buffalo sports phrases you already know if you're a huge fan! And if you're new here, here's how to catch up.
Complete List Of Buffalo Bills Available On Cameo