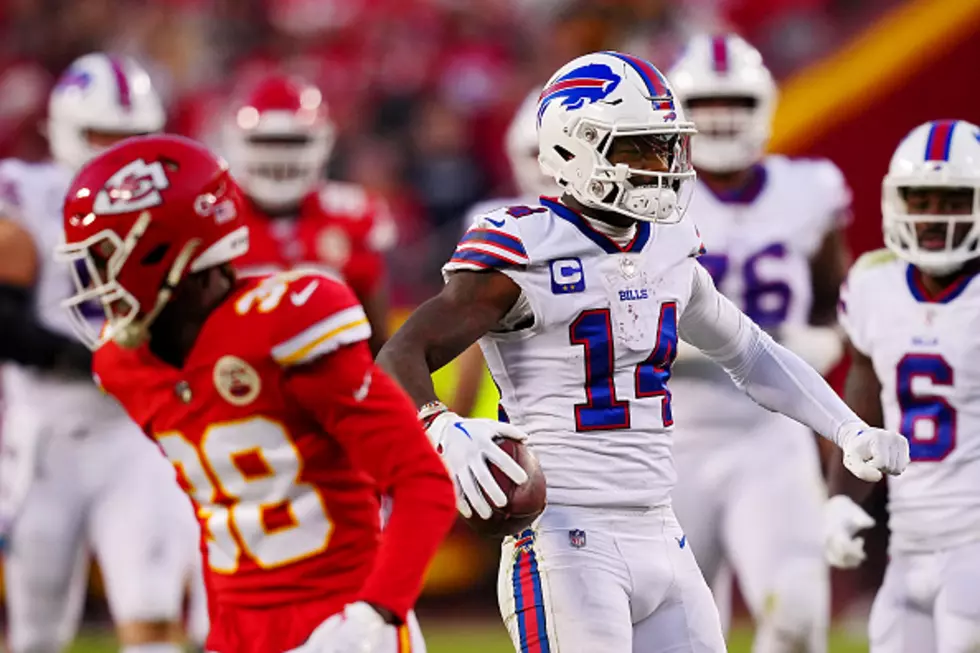 Report: Bills-Chiefs AFC Title Game to Be Played at This Stadium
Getty Images
The Buffalo Bills are preparing for their seventh playoff game in the last four seasons, as they will host the Miami Dolphins at Highmark Stadium this Sunday afternoon. Kickoff is slated for 1:05 pm.
The Bills are the 2 seed and the Dolphins are the 7 seed, as Buffalo never had a fair shot at the 1 seed because of their Monday Night Football game against the Cincinnati Bengals being cancelled; due to the Damar Hamlin emergency medical event.
The Chiefs still got the bye week, which many still consider the better 1-seed perk, but the NFL made sure to not hand Kansas City the homefield advantage if the Bills and Chiefs both met up in the AFC Championship game.
If the Bills and Chiefs make it to the AFC Championship game this month, that game will be played at a neutral site. The question is where is that game played?
Detroit and Indianapolis were the two sites fans and media immediately thought of, but both were unavailable. Ford Field is replacing their turf and Lucas Oil Stadium is hosting a volleyball tournament.
Sites like New Orleans, Las Vegas and even Pittsburgh (outdoor stadium) have been tossed out there for possible sites, but it looks like one indoor stadium site has come to the forefront.
According to Bob Fescoe of 610 radio in Kansas City, Atlanta is expected to be the neutral game site for an AFC Championship game site for a Bills and Chiefs title game.
If you're wondering, Atlanta is pretty much the same exact distance from both Buffalo and Kansas City. It's roughly 800 miles from Kansas City and just under 900 miles from Buffalo, which the NFL surely considered. It's also a large city with hotel accommodations and it's indoors.
It makes too much sense.
5 Likely Sites for Neutral Site AFC Championship Game
Here are four favored spots for the AFC Championship game, based on availability, market and reports.
15 Things You Should Never Do at a Bills Home Game
Things that are a no-no to do at a Buffalo Bills home game.
22 Famous Buffalo Sports Phrases Every Die-Hard Bills and Sabres Fan Knows
Being a sports fan in Buffalo is sometimes like knowing a different language. Here are 22 of our favorite Buffalo sports phrases you already know if you're a huge fan! And if you're new here, here's how to catch up.