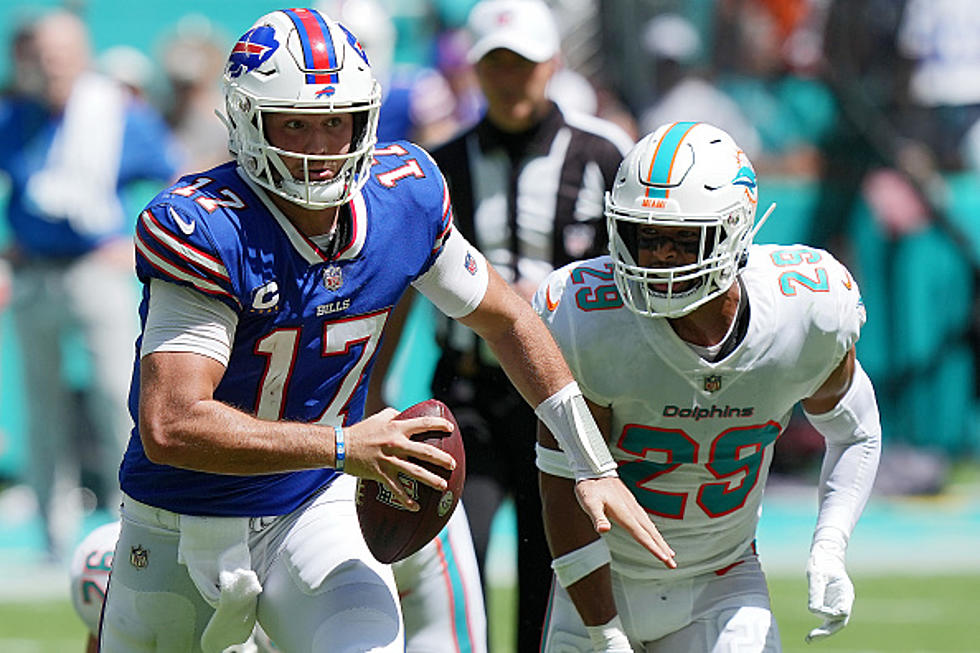 Report: Bills Will Avoid The Intense Miami Heat This Season
Getty Images
It's NFL schedule release day, which means the full schedule will come out at 8 pm EST.
We already know a few games across the NFL, which involve a couple of Buffalo Bills games.
The NFL has announced the Bills opener, which will be at the New York Jets on Monday Night Football. The Bills will also be the home team in London against the Jacksonville Jaguars in week 5.
Sal Capaccio reported last night the Bills will travel to Cincinnati to play the Bengals in early November for a prime time game, which by all accounts on Twitter will be November 5th on Sunday Night Football.
Now, it appears the Bills will avoid the intense Miami heat in 2023.
Ryan Talbot is reporting that the Bills will play at the Miami Dolphins late in the season, while the Dolphins will travel to Orchard Park early in the season.
The Bills dealt with heat exhaustion and injuries in Miami last year, which was in 100+ degree heat index. The Dolphins' sideline was covered in shade, while the Bills sideline was not.
The Dolphins got a snow game in Orchard Park in December, with fans throwing snowballs at Dolphins players, which Miami was not a fan of.
This would make both teams happy, to avoid the intense weather that each city is famous for.
If you're wondering, the average temperature in Miami for December is 76 degrees (high). That's about a 20-degree difference from what the Bills had to deal with last September.
6 Buffalo Bills Greats That Didn't Look Right In A Different Uniform
Unfortunately, sometimes your favorite player leaves your team and when you see them it just looks weird. Here are five former Buffalo Bill greats that just look weird wearing a different team's jersey.
Buffalo Bills Players Who Had Their Own Cereals
Today is a breakfast lover's dream it is National Cereal Day and if you want to celebrate with some Buffalo Bills players, you will have plenty of choices.
Top 50 Summer Restaurants in Buffalo and Western New York
Check out some of the best spots for food and drinks this spring and summer across Western New York!