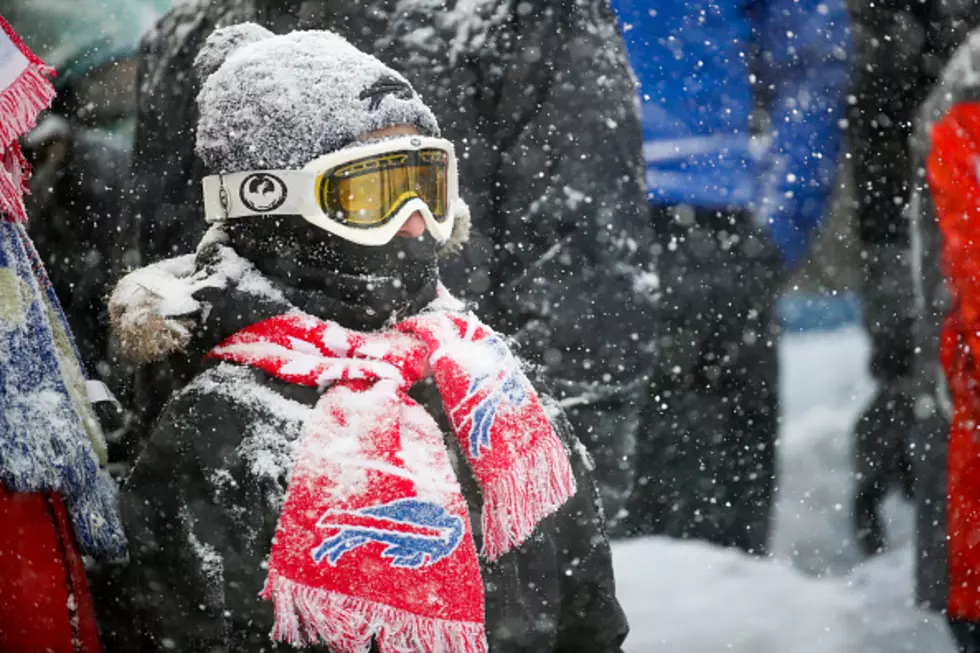 Looks Like the Bills Game on Sunday Will Be Played in a Snowstorm
Getty Images
When you were a kid, there wasn't anything more exhilarating than a snow day. You wake up in the morning and recognize it's snowing out. You turn on the local news and see your school listed for the cancellations. That feeling is undefeated.
That feeling is similar for a snow game in the NFL. Think about it, when you hear there's a snow game happening in the NFL, you drop everything to turn on that game just to see it as it happens.
The Buffalo Bills have played in a few snow games in their history.
The two most recent examples are 2007, when the Bills played at the Cleveland Browns in December of 2007. That game ended 8-0 in favor of Cleveland and it was nearly impossible to pass the ball.
The same can be said for the December of 2017 matchup between the Colts and Bills at Highmark Stadium. The Bills won that game with an overtime touchdown run by LeSean McCoy.
That Colts game was a lake effect snowstorm and it's looking more likely we will see anotheer lake effect snow event for a Bills game this Sunday.
You probably know a Winter Storm Watch is in effect for Erie County from Thursday evening through most of Sunday, which could bring anywhere from 1-2+ feet of snow. The City of Buffalo looks to be the epicenter for the most snow, with slightly less totals for the south towns.
While we should see the lake effect snow band move south and lose intensity, the timing looks to be bad for the Bills game (if you don't want a snow game).
Mike Cejka of WIVB tweeted on Tuesday morning that the early model is showing that lake effect snow band moving directly over Orchard Park for 1 pm this Sunday, which just so happens to be the kickoff for Browns-Bills.
Snow is likely to fall during the game but this would mean that we see heavy snow for at least the first part of the game, which would be bad news for passing.
Even running would be difficult in that weather. If there's too much snow, it's hard to keep your footing, so the game just ends up becoming who can score any touchdown.
If you're going to the game on Sunday, just be prepared for horrible weather and leave yourself plenty off time. Bring your shovel too.
You Need All Of These Buffalo Bills Themed Ugly Christmas Sweaters
15 Things You Should Never Do at a Bills Home Game
Things that are a no-no to do at a Buffalo Bills home game.
22 Famous Buffalo Sports Phrases Every Die-Hard Bills and Sabres Fan Knows
Being a sports fan in Buffalo is sometimes like knowing a different language. Here are 22 of our favorite Buffalo sports phrases you already know if you're a huge fan! And if you're new here, here's how to catch up.