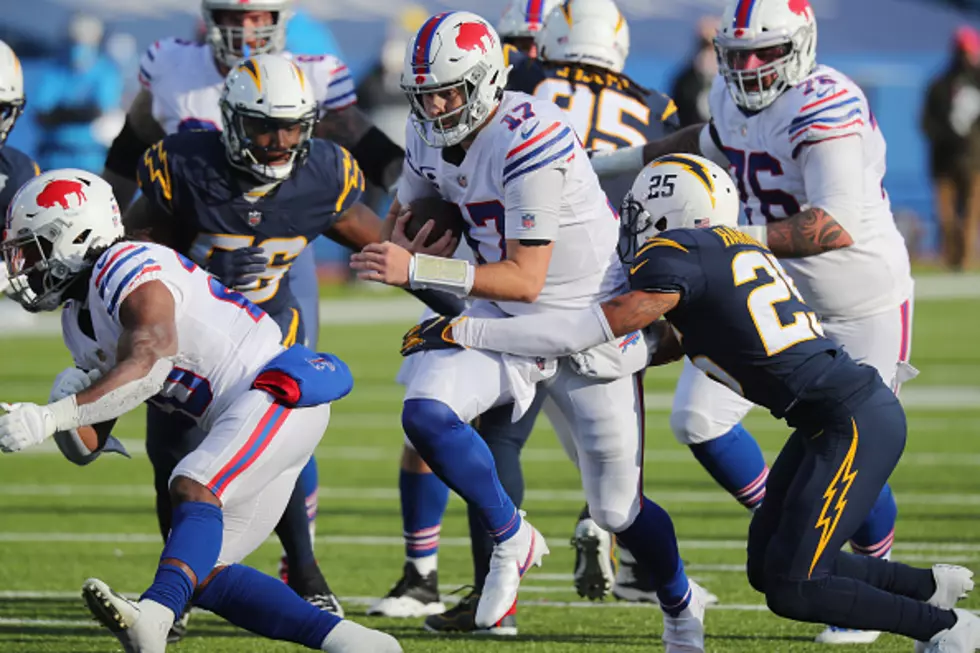 2023 Buffalo Bills Game Will Be Exclusively on Peacock
Getty Images
The 2023 Buffalo Bills schedule has been released and there's quite a lot to digest.
Some fans may be surprised that the Bills only got five prime time games this season: the New York Jets (road), Cincinnati Bengals (road), Tampa Bay Buccaneers (home), New York Giants (home) and Denver Broncos (home).
The Bills kick off the regular season against the New York Jets at MetLife Stadium on Monday Night Football. That's followed by the home opener against the Las Vegas Raiders in Orchard Park on Sunday, September 17th at 1 pm.
Another interesting fact is the Bills play the Los Angeles Chargers at SoFi Stadium on December 23rd, which will be the NFL's very first streaming exclusive game. It will air on Peacock.
This means no other network will have the game. Fans will have to get Peacock ($5 per month) to see the game. This kind of game has been talked about for some time and will only happen more often, as there is too much money at stake with the streaming services paying for the rights.
The game is the day before Christmas Eve.
The last part of the Bills schedule is extremely difficult, based on team projections.
The Bills face the Jets, Eagles, Chiefs, Cowboys and Chargers all in a row: they will have to come out of that unscathed to have a chance at the one seed in the AFC — if they're in contention.
Buffalo ends the season with a January 7th road game against the Miami Dolphins. That's much welcomed after the last three seasons of the Bills playing Miami in September.
One Sentence That Will Immediately Enrage Buffalo Bills Fans [LIST]
Disclaimer: If you're a Buffalo Bills fan and feeling slightly annoyed today, you're about to fly off the handle.
16 Buffalo Bills With Some Of The Best And Worst Nicknames
22 Famous Buffalo Sports Phrases Every Die-Hard Bills and Sabres Fan Knows
Being a sports fan in Buffalo is sometimes like knowing a different language. Here are 22 of our favorite Buffalo sports phrases you already know if you're a huge fan! And if you're new here, here's how to catch up.