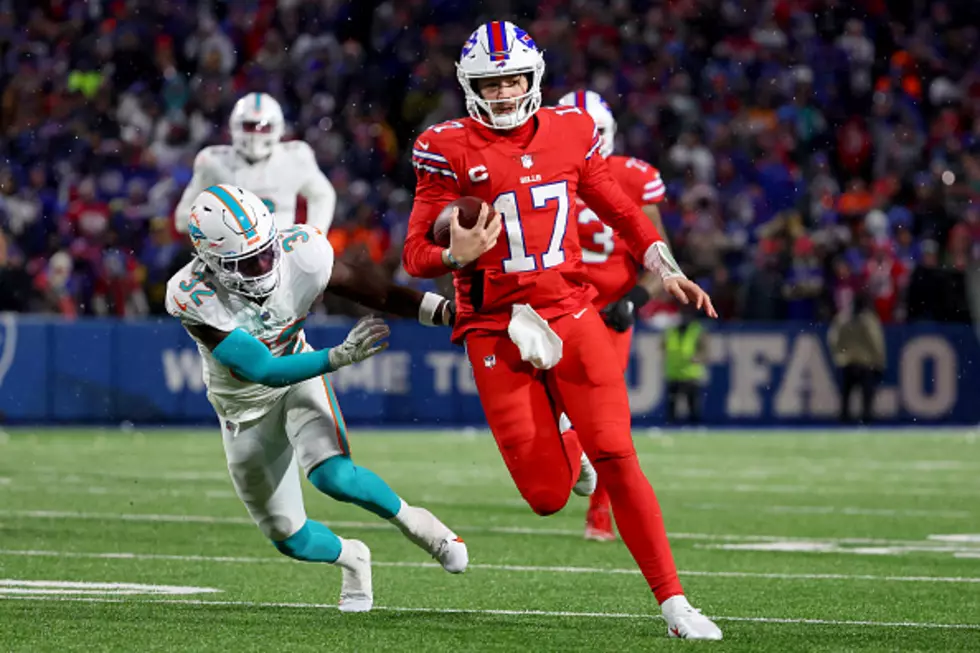 NFL Picks Time and Date for Dolphins-Bills Wild Card Game
Getty Images
The Buffalo Bills clinched the 2 seed in the AFC playoffs on Sunday, with a win over the New England Patriots at Highmark Stadium, 35-23.
The loss also knocked the Patriots out of the playoffs, after the Miami Dolphins beat the New York Jets 11-6, which means the Bills will host the Dolphins for Super Wild Card Weekend in the AFC's 2-7 seeding matchup.
We have known for the last several hours it would be the Dolphins at the Bills, but now, we know the date and time.
The NFL has released the full wild card weekend schedule and the Bills will host the Dolphins at 1 pm next Sunday at Highmark Stadium. The game will be on CBS and Paramount+.
The biggest reason why this game is a 1 pm game and not one of the three primetime games, likely has to do with the fact the league does not know who will start at quarterback for the Dolphins.
Tua Tagovailoa is still in concussion protocol and there's been no indication he will clear in time. Backup Teddy Bridgewater missed week 18 with a broken pinky on his throwing hand, which means there's at least a reasonable chance rookie Skylar Thompson starts once again.
The Bills are guaranteed to not play a true road game in the postseason. If they play at least two games, both will be at home, while a potential AFC Championship game against the Kansas City Chiefs will be at a neutral site stadium, since the Chiefs played one more game after the Damar Hamlin medical event negated the Bills-Bengals game last Monday night.
Best Free Agents Signed By The Buffalo Bills
The Buffalo Bills are gearing up for a run at the Super Bowl next season and some big-time free agents are already reaching out to the Bills looking to join the team. Check out some of the best free agents the Bills have signed in the past.
15 Hilarious Buffalo-Themed Coffee Mugs For Bills Fans And More
In honor of National Coffee Day, here are fifteen sweet mugs to hold your hot cup of joe while proclaiming your love for Bufflalo.