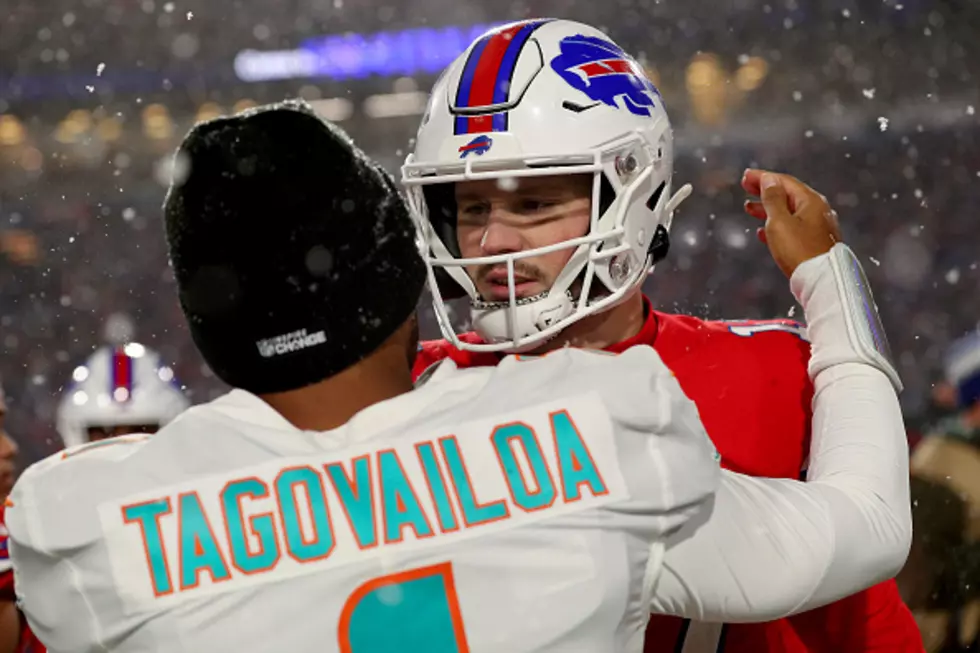 Bills Will Play the Dolphins In The Wild Card at Highmark Stadium
Getty Images
The Buffalo Bills won their 13th game of the season and wrapped up the 2 seed in the AFC playoffs with a win, 35-23 over the New England Patriots.
The Patriots played very well, especially in the first half, but Nyheim Hines' two kickoff returns for touchdowns and Josh Allen's two incredible touchdown passes to John Brown and Stefon Diggs proved to be the difference in a very emotional game in Orchard Park.
The Bills locked up the 2 seed and they will have another game with the Miami Dolphins, who beat the New York Jets 9-6 on Sunday. With the Patriots loss and the Dolphins win, Miami makes the postseason as the 7 seed in the AFC.
The Bills don't yet know who will be playing quarterback for the Dolphins as starter Tua Tagovailoa is still in concussion protocol and backup Teddy Bridewater has a broken pinky on his throwing hand.
Third-string rookie quarterback, Skyler Thompson started today against the Jets.
The Dolphins lost six straight games before winning today against a struggling Jets team, while the Bills have won seven straight, but have had some frustrations down the stretch.
The time and date remains to be seen, as the rest of the schedule play out in the NFL.
The Cincinnati Bengals will host the Baltimore Ravens in the 3-6 matchup (if the Bengals hold on), while the Jacksonville Jaguars will host the Los Angeles Chargers in the 4-5 matchup.
The Bills and Chiefs win this weekend also means that if Buffalo and Kansas City face one another in the AFC Championship game, they will play it at a neutral site.
15 Things You Should Never Do at a Bills Home Game
Things that are a no-no to do at a Buffalo Bills home game.
22 Famous Buffalo Sports Phrases Every Die-Hard Bills and Sabres Fan Knows
Being a sports fan in Buffalo is sometimes like knowing a different language. Here are 22 of our favorite Buffalo sports phrases you already know if you're a huge fan! And if you're new here, here's how to catch up.
The Best 50 Ice Cream Places in Western New York
The warm weather means ice cream season is just about here.