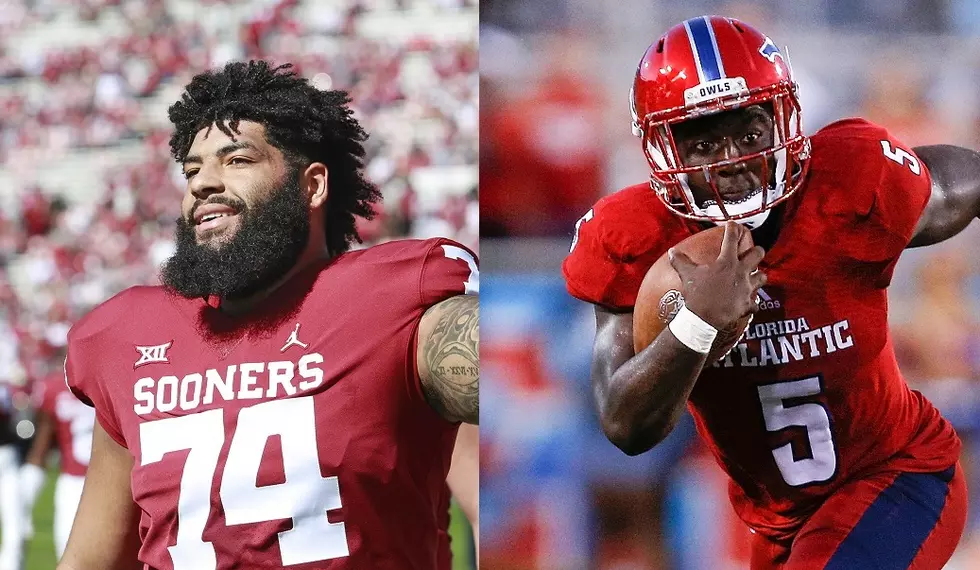 Bills Go Offense On Second Day of NFL Draft
Getty Images
After making defensive lineman Ed Oliver their Number 1 pick in the NFL Draft on Thursday, the Bills went to the offensive side of the ball with their two picks on Friday.  They added offensive lineman Cody Ford out of Oklahoma and running back Devin Singletary from Florida Atlantic.
To choose Ford, the Bills swapped second-round picks with the Oakland Raiders (38 for 40) and the Bills threw in a fifth-round selection (158th overall).  At the NFL Combine, Ford was listed at 6'4" and 329-pounds.  He can and has played both tackle and guard.  He was a guard his first two years at Oklahoma, then he was shifted to right tackle where he protected Heismann-winning quarterback Kyler Murray.
In his sophomore season he was named to the Academic All Big-12 second team and the All Big-12 first team in his junior season.  He's projected to hold down the starting right tackle job for the next 10 years.
Singletary's nickname is the Motor.  He finished his college career with 66 touchdowns.  In 2017 he led the nation with 32 touchdowns.  Although he's 5-foot-7, some scouts say it gives him an advantage in eluding tacklers.  In 2017 he ranked 2nd nationally in missed tackles forced.
Singletary tore up the record books at Florida Atlantic.  He holds the school's top four highest single-game rushing performances including the current record of 254 yards on the ground.  He also holds the record for most career yards and touchdowns, and single season yards and touchdowns and most touchdowns in a single game with 5.