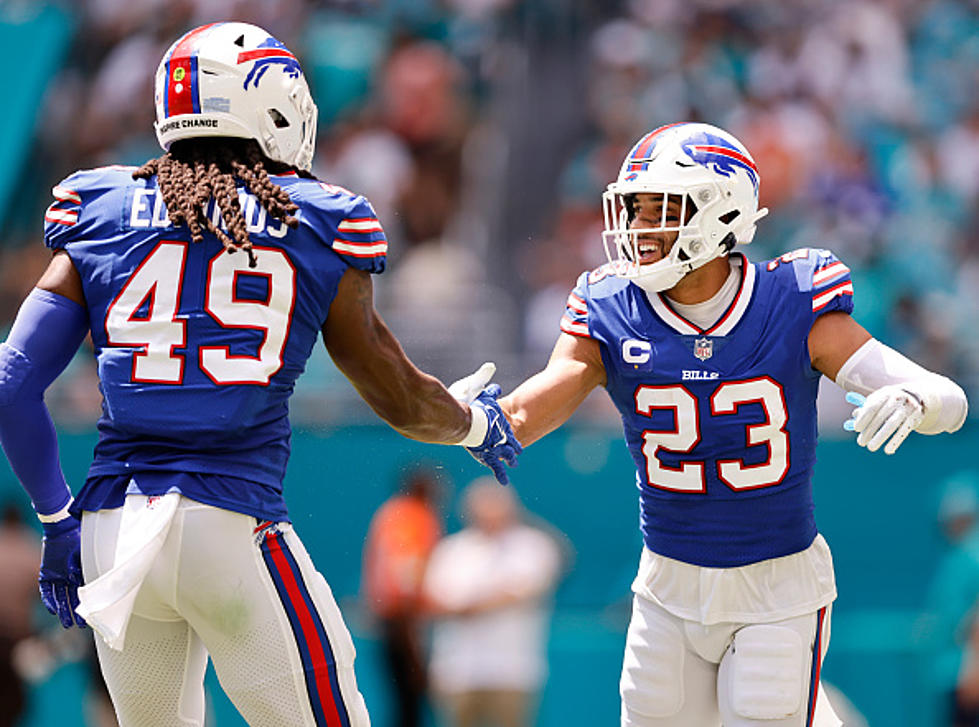 Bills Safety Micah Hyde Says How a PB&J Should Be Cut [VIDEO]
Getty Images
The Buffalo Bills host The Washington Football Team this Sunday at Highmark Stadium.
The Bills are looking to improve to 2-1 on the 2021 regular season as they play their first NFC team. The Bills defense was a huge reason why the Bills beat the Miami Dolphins last Sunday and why they were in it with the Pittsburgh Steelers in week 1, despite the offense's struggled in that game.
Bills safety Micah Hyde has been a big part of the Bills for the last five seasons and he spoke with the media on Friday. He talked about what guys on the team do to stay hydrated and keep energy, such as eating orange slices and peanut butter and jelly sandwiches.
Matt Parrino of Syracuse.com asked Micah how he cuts his PB&J's and Hyde said he's a "diagonal guy." When Parrino said that he's a "down the middle guy," Hyde said that's kind of creepy...
I'm 100 percent with Micah on this one. I always cut my sandwiches diagonal and wouldn't even think of cutting my sandwiches down the middle. It just doesn't look the same. My fiancee, however, always cuts hers down the middle and it's a constant bacl-and-forth in our household.
The Bills should have most everyone for the game on Sunday. The only players in doubt are cornerbacks Dane Jackson and Levi Wallace. Both are listed as questionable for Sunday, but the Bills are hopeful they can play.
A reminder that fans 12 years of age or older, who are attending the game, must have had at least one dose or the vaccine to enter Highmark Stadium. Kickoff is at 1 pm.
25 Important Things You Need To Bring To Your Tailgate
20 Amazing Old-School Restaurants in Buffalo
The 20 best old-school restaurants and bars in Western New York.
$2.4 Million New York State Home Inspired By HGTV
This home in Elma, NY was
inspired
by HGTV!
Million Dollar Western New York Home Come With Private Island
You could own your own private island right here in Western New York. Currently listed on Zillow.com, this 5 bedroom, 5 bathroom home is amazing and has everything that you could want in a home.