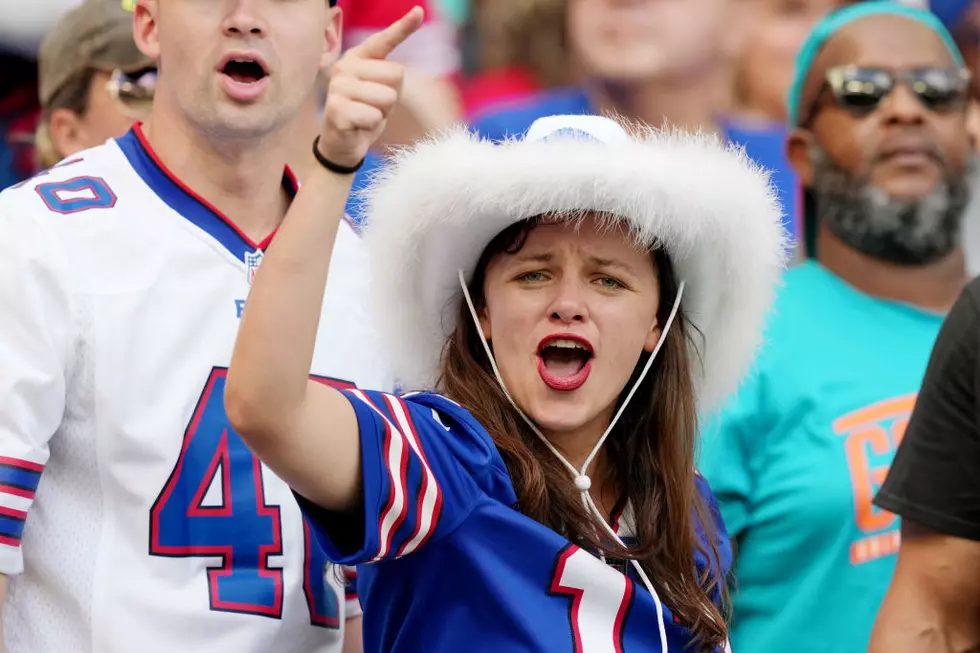 Family Sings The "Bills Shout Song" on Family Feud
Getty Images
If you were to sing Hey-ayyyyyyy-ayyyyyyyy-ayy! out loud on a national game show, do you think the host would be ready for it?
It really seems like there are Buffalo fans everywhere. You can find a connection to Buffalo in just about every corner of the world.
That reach even extends to nationally syndicated television game shows.
The Smith Family has the opportunity to try their luck at Family Feud, the gameshow that is hosted by Steve Harvey.
While the family was getting ready to answer some questions, Jen Smith who was serving as the leader of the family on a show, decided to do what fans of the Buffalo Bills do when they're out in public. Which is, of course, singing the Bills Shout song.
Show host Steve Harvey has seen his share of interesting activities during his time hosting Family Feud, but in the video, you can tell he wasn't quite ready for this appearance of the Bills Mafia.
I can appreciate the Smith Family because I sometimes randomly yell Hey-ayyyyyyy-ayyyyyyyy-ayy! while I'm in Wegmans.
Listen To Ed-Nice Every Monday Through Friday At 10 AM on Power 93.7 WBLK
In addition to this appearance by the Smith family, a few other Buffalo families have been on Family Feud in the last few months. Both the Badger family and the Kline family have also been on Family Feud this year, and you know they represented the 716.
I love seeing Buffalo on display for the nation. We really live in one of the greatest places to be in the world.
Let's Go Buffalo!
The Top Folding Tables For The Bills Mafia To Jump On
In order to have the best tailgates this year, you have to be ready with the highest quality equipment
10 Easy, Make-Ahead Tailgate Recipes For Bills Games
Here are some easy, make-ahead recipes to have in your back pocket to bring your tailgate party to a new level.
15 Things You Should Never Do at a Bills Home Game
Things that are a no-no to do at a Buffalo Bills home game.