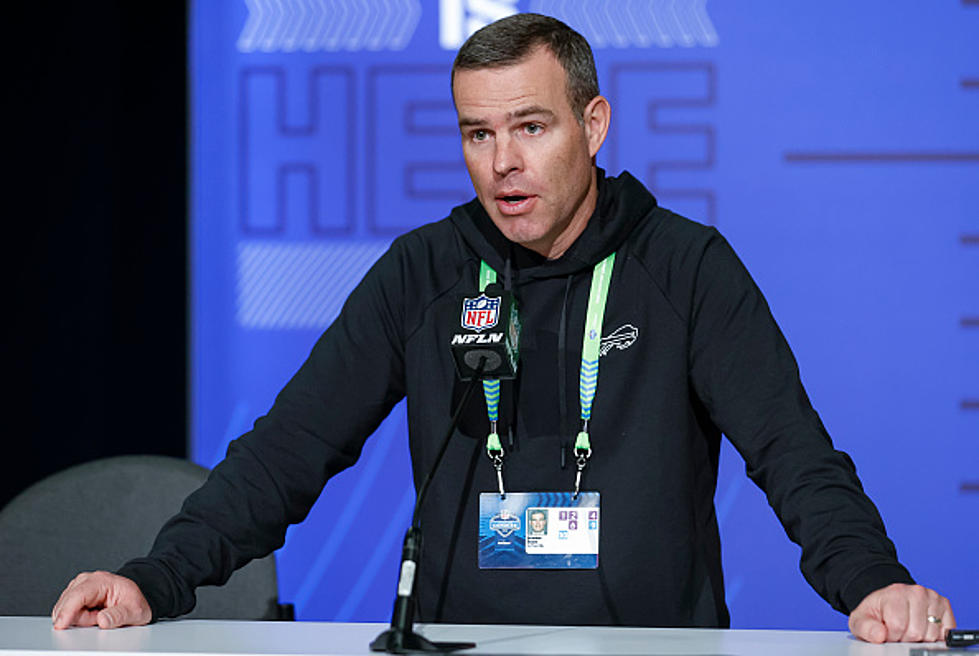 Buffalo Bills Having Dinner With Potential Draft Pick
Getty Images
We're just over two weeks away from the first round of the 2023 NFL Draft.
By now, you have probably seen many mock drafts and speculation of who the Buffalo Bills will take with the 27th overall pick. In fact, you probably have seen talk of who the Bills would select in rounds two and three as well.
What's fascinating about where the Bills pick in round one is that so many scenarios could happen.
Even the Bills don't know exactly what will happen and there's always a few surprise picks by the time you get to the 27th overall pick. It stands to reason the Bills could be left with a few players they love and have first round grades on, or have only one or zero players left with a first round grade (on their board).
Wide receiver and linebacker seem to be the two consensus picks for which position they go with. Many fans want general manager Brandon Beane to take a wide receiver with pick 27.
Boston College wide receiver Zay Flowers may be there for Buffalo. That's why the Bills will host the likely first round draft prospect on Thursday.
Tom Pelissero of The NFL Network reports Flowers will fly to Buffalo to have dinner and meet with the Bills.
Flowers is only 5'9'' but is a three-tier receiver, meaning he can produce on short, intermediate and long routes. He's fast and shifty, along with being great with contested catches. Him in the Bills offense would make complete sense.
NFL reporter Aaron Wilson says Georgia tight end Darnell Washington visited the Bills on Tuesday, who is projected to be a late first or early second round pick.
Washington is 6'7'' and is a complete tight end, which means he can block and contribute in the passing game.
The Newest Buffalo Bills Jersey Numbers
Bills Lover's Dream House For Sale & It's Not Even In Buffalo
22 Famous Buffalo Sports Phrases Every Die-Hard Bills and Sabres Fan Knows
Being a sports fan in Buffalo is sometimes like knowing a different language. Here are 22 of our favorite Buffalo sports phrases you already know if you're a huge fan! And if you're new here, here's how to catch up.