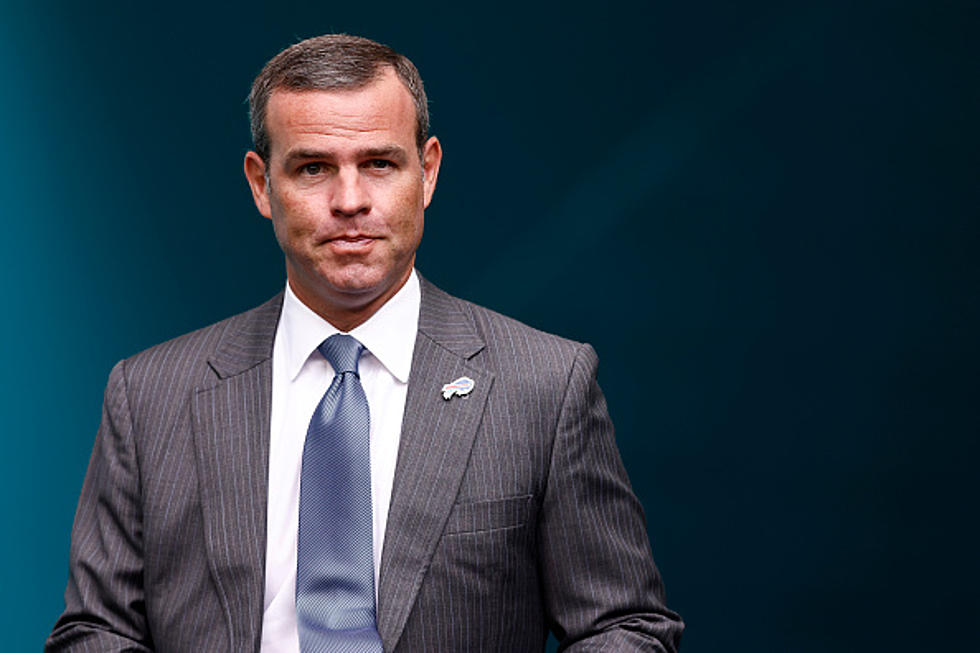 Brandon Beane Reveals What Bills Were Close to Doing Last Night
Getty Images
The Buffalo Bills have a brand new passing target for their offense.
Most fans probably assumed it would be a wide receiver, but instead, Buffalo decided to add a receiving tight end with their 2023 first round pick; selecting Utah tight end Dalton Kincaid.
General manager Brandon Beane moved up two spots to select Kincaid, giving up a 2023 4th round pick to the Jacksonville Jaguars. This means the Bills only have four picks left in the 2023 NFL Draft.
Kincaid will not be asked to block. He's a pure receiving threat, who the Bills will use to line up in the slot and create mismatches and uncertainty in the defense. Buffalo will have to run more 12-personnel (two tight ends).
Beane talked about the pick after it was made and mentioned that if you asked him what was happening five picks before they picked at 27, Beane says he would have told you they would have traded down.
The four straight wide receivers taken from picks 20-23 but Kincaid was still there at 24 when the New York Giants picked. Beane told the Buffalo media that he tried to trade up with New York but that didn't happen. Then he made the move with the Jaguars, because they were convinced that the Dallas Cowboys (pick 26) were taking Kincaid.
Dallas had a big need for tight end.
Beane admits that if Kincaid was not there, that they would have traded down; whether that's out of the first round entirely, we don't know, just like we don't know if the Bills wanted one of those wide receivers which were taken.
Kincaid is 23 years old, so he's a bit older than most rookies, but his receiving skillset is special. If used properly, he will be a huge help for the passing game.
16 Buffalo Bills With Some Of The Best And Worst Nicknames
22 Famous Buffalo Sports Phrases Every Die-Hard Bills and Sabres Fan Knows
Being a sports fan in Buffalo is sometimes like knowing a different language. Here are 22 of our favorite Buffalo sports phrases you already know if you're a huge fan! And if you're new here, here's how to catch up.
Complete List Of Buffalo Bills Available On Cameo