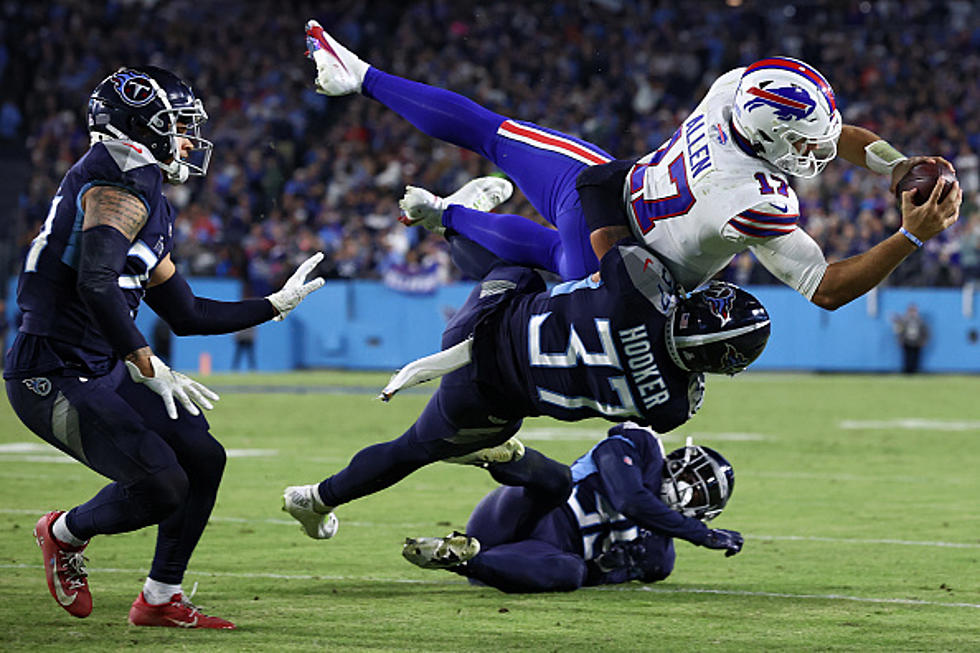 The Bills Record, If Every One-Score Game Ended Differently [TWEET]
Getty Images
The Buffalo Bills have had more of an up-and-down season than many fans likely wanted before it started.
Buffalo had number-one seed aspirations going into 2021, and while they still look to win the AFC East and maybe get as high as 2 in the AFC playoff standings, the season has six total losses that feature brutal ways to lose a football game.
Believe it or not, the Bills only have one loss by more than one score, and that was the disastrous game against the Indianapolis Colts the Sunday before Thanksgiving. The Bills lost 41-15 and allowed well over 200 yards rushing to the Colts that afternoon, in what was a rainy day at Highmark Stadium.
The other five Bills losses were by one score, and you could easily argue the Bills should have won all of them -- especially the losses against the Titans, Buccaneers and the home game against the Patriots.
Check out the alternate NFL standings if every one-score game had ended differently, meaning the team that lost the one-score game, actually won.
That's right, the Bills would be 15-1. That would by far be the best record in the NFL.
The Colts would, ironically, be cemented into the number 2 seed in the AFC; they're the only team that dealt Buffalo their only non-one-score loss of the season.
The Colts lost a bunch of close games to start the season, and we know about how close the Bills were to winning the Titans, Bucs and Patriots (home) games.
The Jacksonville loss was a brutal one to have on the resume, but the Bills were a shell of themselves on the offensive line and Allen had no time to throw that afternoon, which resulted in Josh's worst game of the season.
That's how close the NFL is nowadays. The Bills face the New York Jets to close out the regular season on Sunday at Highmark Stadium at 4:25 pm. The Bills clinch the AFC East with a win, or a Patriots loss to Miami.
Buffalo's Defense Steps Up As Bills Now Playoff Bound [PHOTOS]
The Bills' defense stepped up big time as the Bills beat Atlanta and clinched a playoff spot.
The Bills 2022 Opponents We Know Right Now
Here's who we know the Bills will play at home and away in 2022.
Jerseys You Should Never Wear At A Buffalo Game
You should never be caught wearing these jerseys.
KEEP READING: Here are 50 of the most famous sports goofs