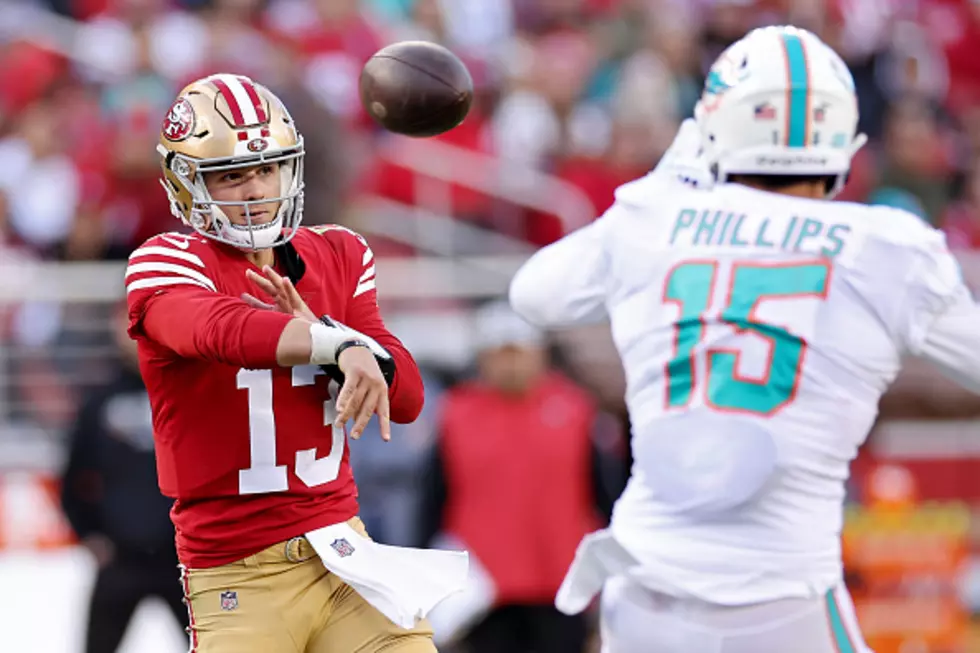 Bills Fans Should Thank "Mr. Irrelevant" For First Place in AFC
Getty Images
The Buffalo Bills have had some unfortunate luck go against them this season.
They have had a terrible time recovering other team's fumbles. They also went the first half of the season hardly winning any coin tosses. However, pretty much everything went their way this past week.
The Bills played one of their best games of the season on Thursday, defeating the New England Patriots by a score of 24-10. Then on Sunday, the Bills had everything go their way.
The Cincinnati Bengals beat the Kansas City Chiefs and the San Francisco 49ers beat the Miami Dolphins, which helped give the Bills the number 1 seed in the AFC and atop the AFC East.
The 49ers have a great team, led by a superb defense and excellent coaching. They also have offensive weapons like Deebo Samuel, George Kittle and Christian McCaffrey. However, their win against the Dolphins was still amazing.
That's because starting quarterback Jimmy Garoppolo suffered a season-ending foot injury early in the game, which put rookie quarterback Brock Purdy into the starting lineup.
Purdy had to play because Trey Lance, their original starter, suffered a season-ending injury in week 2.
Purdy was the last pick of the 2022 NFL Draft out of Iowa State. The last pick of the NFL Draft is always deemed "Mr. Irrelevant," which has been happening since 1976.
The last pick of the draft always gets a trip to Disneyland, a golf tournament and other perks.
Many fans thought Miami would coast to a win when Garoppolo got hut, but Purdy not only held his own, he played pretty well. He completed 25 of 37 passes for over 200 yards with two touchdowns.
We could very well look back on this Sunday and say without Brock Purdy beating the Dolphins, the Bills don't win the AFC East...
Best Free Agents Signed By The Buffalo Bills
The Buffalo Bills are gearing up for a run at the Super Bowl next season and some big-time free agents are already reaching out to the Bills looking to join the team. Check out some of the best free agents the Bills have signed in the past.
15 Things You Should Never Do at a Bills Home Game
Things that are a no-no to do at a Buffalo Bills home game.
22 Famous Buffalo Sports Phrases Every Die-Hard Bills and Sabres Fan Knows
Being a sports fan in Buffalo is sometimes like knowing a different language. Here are 22 of our favorite Buffalo sports phrases you already know if you're a huge fan! And if you're new here, here's how to catch up.