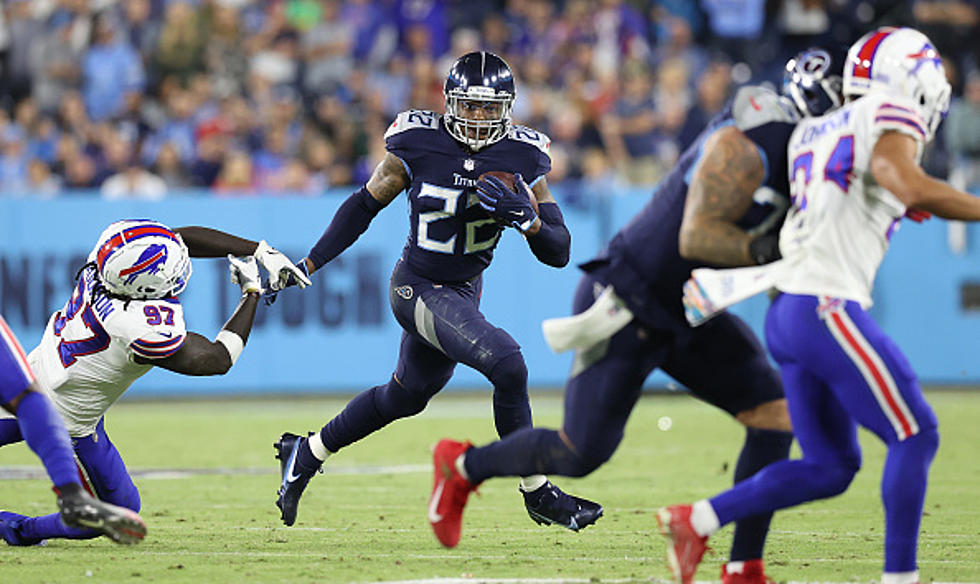 Buffalo Bills a Top Favorite to Land a Star Running Back
Getty Images
The start of the NFL off-season is off to a pretty interesting start. It's likely to get even more crazy as we enter next week, which is the start of free agency, which always features constant news of players signing with new teams.
Trades are also on the top of the mind for football fans this time of the year and there are plenty of big players whose name has been thrown out there in recent days, including Aaron Rodgers and DeAndre Hopkins.
Tennessee Titans star running back Derrick Henry is another player that is now being rumored to be on the trading block.
Longtime NFL reporter Mike Silver reports the Titans have shopped Henry, which could mean new general manager Ran Carthon is ready to go in a new direction.
Henry is 29 years old and while he has rushed for 1,500+ yards in three of the past four seasons; which includes a 2,000-yard rushing season in 2020.
It would make sense for Tennessee to move on from Henry, since he should be on the backend of his career -- probably lasting two or three more seasons, if the data from past running backs with Henry's workload is any proof.
Could the Buffalo Bills be interested?
The Bills are tied for the second-best odds to land Henry in 2023.
The top two teams are the Miami Dolphins and Cincinnati Bengals at +400. The Bills are tied with the Kansas City Chiefs at +500. All are playoff contenders and all are AFC teams, which is interesting.
Henry has three years left on his current contract but only 2023 has a large cap hit ($16 million) with no guaranteed money after next season. The contract screams "restructure," and certainly possible to trade to a contender.
Would the Bills want to do this? Would they want a more power running back to help take the load off the pass?
We will see...
Best Free Agents Signed By The Buffalo Bills
The Buffalo Bills are gearing up for a run at the Super Bowl next season and some big-time free agents are already reaching out to the Bills looking to join the team. Check out some of the best free agents the Bills have signed in the past.
22 Famous Buffalo Sports Phrases Every Die-Hard Bills and Sabres Fan Knows
Being a sports fan in Buffalo is sometimes like knowing a different language. Here are 22 of our favorite Buffalo sports phrases you already know if you're a huge fan! And if you're new here, here's how to catch up.
Complete List Of Buffalo Bills Available On Cameo