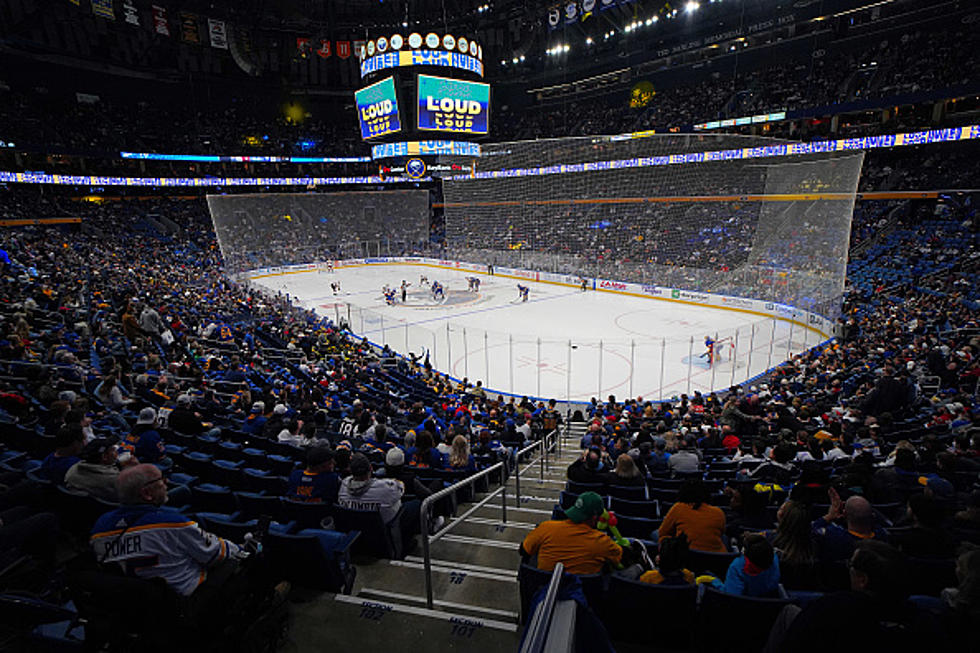 Buffalo Sabres Games Will Look Different in Person This Season
Getty Images
The Buffalo Bills are kicking off their season tonight, as they visit the New York Jets at MetLife Stadium. It's been a long time since Bills regular season games were on TV and it's awesome to get them back.
However, the Buffalo Sabres season is almost back as well.
The Sabres start training camp on September 21st with the first preseason game two days later. The first regular season game is one month away, October 12th against the New York Rangers at KeyBank Center.
KeyBank Center is 27 years old now and chances are, it will be getting some upgrades in the next several years. What exactly it looks like a few years from now remains to be seen, but one new thing you will see this season for Sabres games will be on the ice surface itself.
The Sabres shared photos of the new paint at KeyBank Center. It shows a much brighter Sabres logo at center ice and mini swords through the entire red line.
How cool is that?
The post has over 1,000 shares on Facebook.
The ice looks way better than 2022-2023. Not to say it was bad, but the paint looks much crisper and brighter. It's truly awesome to look at. The mini swords at the red line are a subtle touch but so cool.
The Sabres are looking to make the playoffs for the first time since 2011. They're projected by many to make the postseason in 2024, but they must get better at keeping the puck out of the net. Scoring goals is not a problem but defense has been.
Top 10 Most Underrated Buffalo Sabres of All-Time
6 Best Trades in Buffalo Sabres History
Taking a look at the absolute best trades in Buffalo Sabres history.
22 Famous Buffalo Sports Phrases Every Die-Hard Bills and Sabres Fan Knows
Being a sports fan in Buffalo is sometimes like knowing a different language. Here are 22 of our favorite Buffalo sports phrases you already know if you're a huge fan! And if you're new here, here's how to catch up.