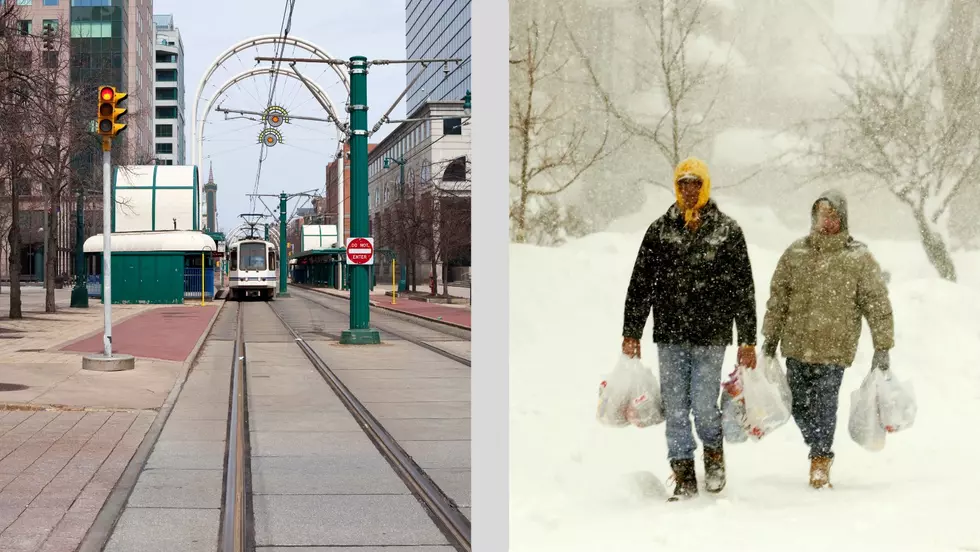 Any Part Of Buffalo, New York Spared By Lake Effect?
Photo Credit: Canva Image, Getty Image
Since the latest "snowvember" storm hit parts of Western New York early Thursday, people have been sharing pictures of the snow from various parts of the area on social media. 
Listen To Clay & Company On 106.5 WYRK
This video is just one of many that have been shared over the last few days.
However, there is one picture that was posted early Friday morning that left many wondering…where is all of that so-called snow?
Let's be honest: the pictures of the snow are probably more for your friends or family that don't quite understand how fast and hard snow falls in Buffalo, New York. You either have to show them that there is a ton of snow, or you have to show your neighbors that the snow truly isn't as bad as the meteorologists anticipated. 
Well….a picture was taken Friday morning in downtown Buffalo, about a day after the storm truly began, and people are trying to make sense of it. 
Robin Madej, a resident of Cheektowaga, said what most people were thinking. Her comment on the Facebook post said, "Not sure why we are all shut down for that, seems like over exaggeration to me."
Yvonne Fullington, a resident of Tonawanda, also chimed in the comments section. "Not bad in Tonawanda either, [I] don't even have to shovel yet," she wrote.
It seems like not that much snow to freak out about, but that's just one area of Buffalo. 
Downtown Buffalo may not look that bad in this part, but other places surely have gotten hit across Western New York, and one reporter attempted to explain why. 
Ed Drantch, morning news anchor for WKBW, shared a photo on Twitter that explains the "sharp divide" of lake effect snow. 
It's more obvious if you look at the sky, but you can see how the left side of the photo is getting hit with a band of lake effect snow. Meanwhile, the side on the right seems unaffected, with no hovering snow clouds above that part of Buffalo. 
It is really only a matter of a few blocks difference, but that small difference can account for varying snow measurements by a foot or more. 
According to multiple weather reports, the lake effect band is 27 miles wide, and the area within the band is getting hit the hardest, which is surrounding areas around Hamburg the most. However, the band will move northward throughout the day, and the city of Buffalo will become the main target within that band by Friday evening. 
Stay warm and be safe.
The Amount Of Forecasted Snow Is Taller Than These Buffalo Bills
\
16 Best Bars in Buffalo for the Night Before Thanksgiving
The best bars for "drinksgiving" in Buffalo and Western New York.
26 Worst Streets To Live On During a Snow Storm
When the snow doesn't let up, it makes you wonder if a plow has shown up — at least once? They most likely have, but nonetheless, these are the worst 26 streets to live on during a snow storm in Western New York.