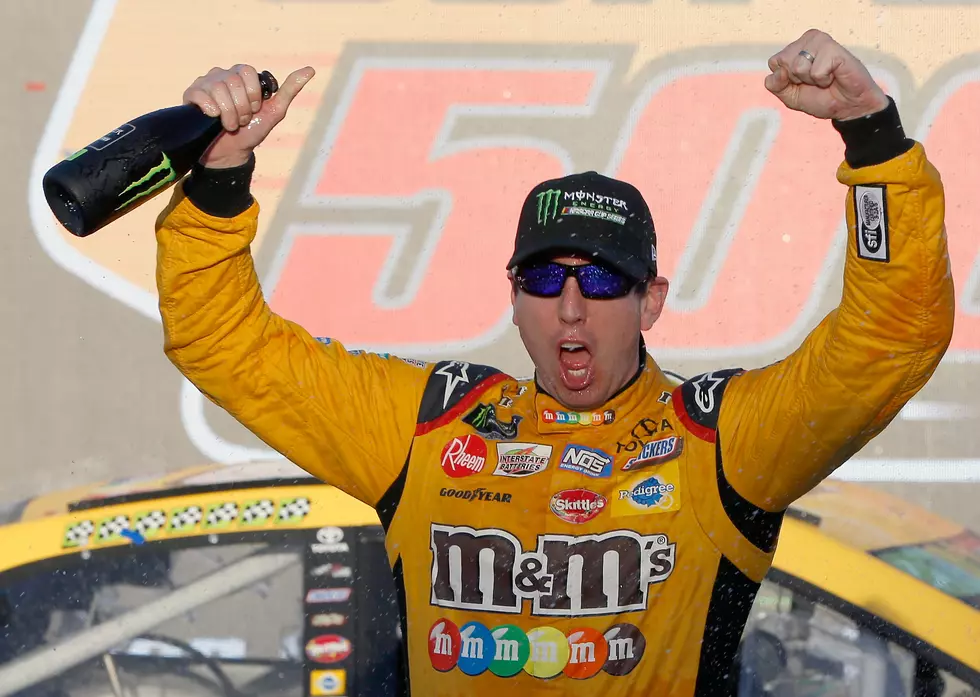 Busch Wins At Phoenix, Final Four Set
Kyle Busch celebrates his victory at Phoenix (Getty Images)
The final four for next week's Monster Energy NASCAR Cup Series championship is set and Kyle Busch says "it's the best four, the closest four in our sport in a long time."  There's no arguing that.  Busch will be joined by Kevin Harvick, Joey Logano and Martin Truex, Jr. next Sunday at Miami-Homestead Speedway for the season championship.
Busch, who won the 2015 championship won Sunday's race at Phoenix for his eighth victory of the season and second in the championship series.  It's the 51st of his career and second at Phoenix.  Busch took the lead from Erik Jones on lap 277 and held it the rest of the way easily holding off Brad Keselowski.
Kyle Larson, Aric Almirola and Harvick completed the Top 5.
Truex finished a distant 14th.  Logano crashed and was forced out of the race on lap 95.
Truex is the defending Cup champion.  It'll be his third Final Four appearance in the last four years. Harvick won the title in 2014.  It'll be Harvick's fourth Final Four in the last five years.  Truex, Harvick and Busch each will be looking for their second championship.  Logano has never won the title.
The race at Phoenix eliminated Kurt Busch, Chase Elliott, Aric Almirola and Clint Bowyer from the championship running.