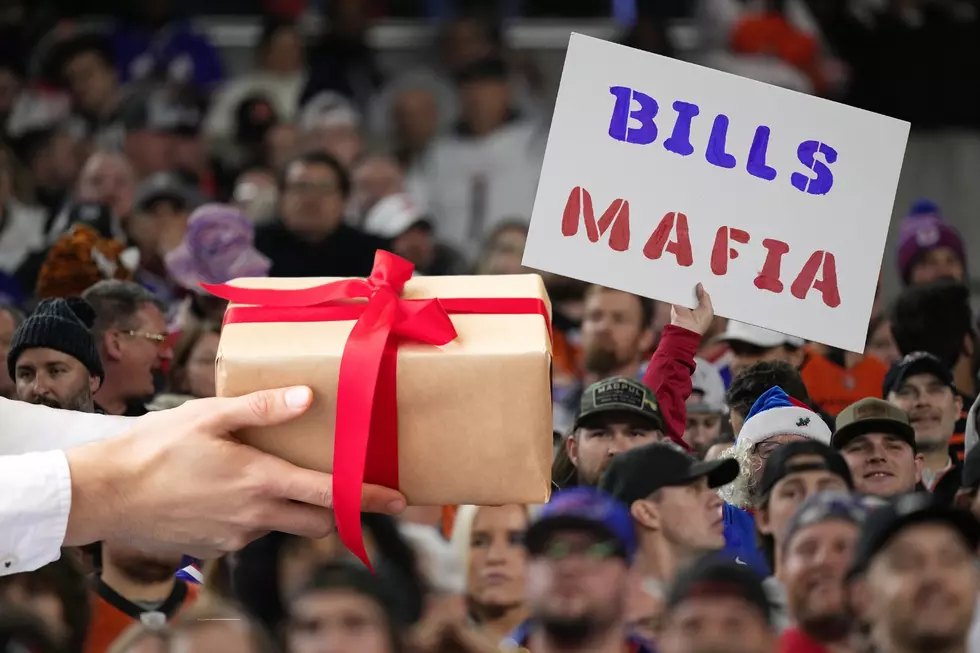 Cincinnati Fan Sends "Very Buffalo" Gift To Bills Mafia
(Getty/Canva)
The Buffalo Bills and the Cincinnati Bengals have had a very close relationship for years.  But this gift to Bills Mafia shows just how well they know the Bills fanbase.
In the hours that followed the accident that occurred on the field in Cincinnati with Damar Hamlin, the entire country and even some people around the world have shown a ton of support.  Fans at the game showed class and saw the bigger picture.  Days later, his charity goal has been surpassed by millions. They've set up a tribute of support to him outside of the hospital and fans of both teams have left messages for Hamlin to see.
It's helped to renew many people's faith in humanity.
Now, some fans from Cincinnati (also known as "Who Dey Nation) are even sending gifts that are directed to the Bills Mafia themselves.  We received this picture through our app from a listener named Nancy of a table that was delivered to The Bills Store near Highmark Stadium.
The table reads:
"To Bills Mafia

From Cincinnati

We are sending you air hugs & a perfectly good table to break.

Love,

Cincinnati

Sincerely Greg Iasco *The 1st guy to try out for the Cincinnati Bengals Cheerleading Team :)"
The Cincinnati Bengals are proving that they're going to be a tough team to beat on the field, and a tough fanbase to top off the field too.  "Who Dey Nation" definitely know our fanbase so well that it's hard to root against them.
Bills Mafia's Wishlist For The New Buffalo Stadium
The Bills are building a new stadium and here is a wishlist from Bills Mafia.
Bills Mafia Tailgate Sauces
There are now three Bills Mafia Tailgate sauces available for you this football season.
Induct Your Dog Into Bills Mafia
Here are the best Bills-themed female dog names to consider when naming your new pet.