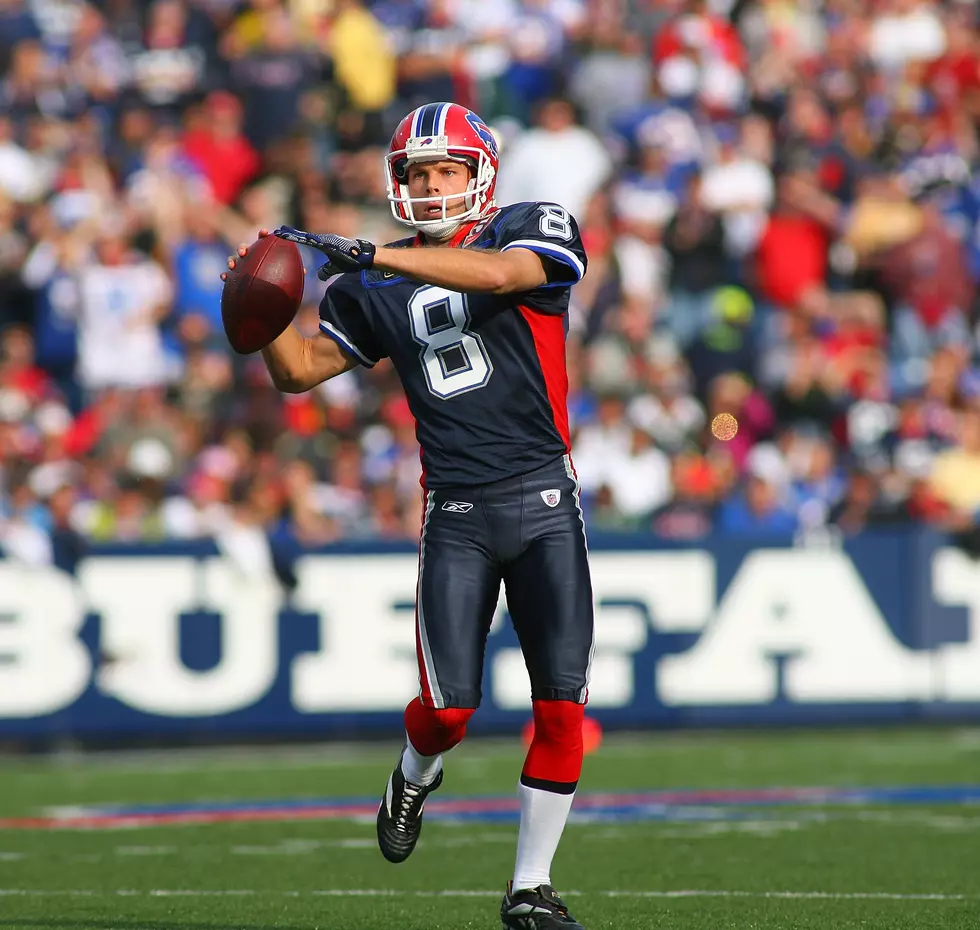 8 Days Until Buffalo Bills Kickoff: Brian Moorman
Getty Images
As we countdown to the kickoff of the NFL regular season we are highlighting some Buffalo Bills from the past.  Today it's another player that wore the #8.
Yesterday the Bills (and every other team in the NFL) had to make tough decisions on who would make their 53-man roster and who would be looking for a job.  One of the guys that unfortunately got cut was wearing the #8 in the preseason.  OJ Howard was a free agent who signed with the Bills a few weeks ago.  But we aren't going to be highlighting him today.
Instead, we are going to focus on someone who was one of the best players on his team almost every year he played for the Bills - Brian Moorman.
It's not often that fans go nuts over their team's punter.  I mean, when the punter is on the field, they are literally giving the ball away to the other team.  But Brian Moorman was a playmaker.  You never knew what was going to happen when the ball was snapped to Moorman.  It wasn't uncommon to see him either boom a punt to the other end of the field or take off running on a fake for a first down.
I'll never forget this play.  I was in the stadium for this one.  It was a fake field goal that Moorman was holding for.  He was able to pass this one to Defensive End Ryan Denney for a touchdown:
Sadly...they didn't all go that well though.  Remember this one from the Pro-Bowl where Sean Taylor lit him up?
There's no question he was a playmaker on the field, but also off the field.  While he was here in Buffalo he started up a charity along with his wife Amber called the P.U.N.T. Foundation (Perseverance, Understanding, Need and Teamwork).  It was meant to help kids in WNY who were fighting pediatric cancer and to give back to the community.  Over the years it has organized multiple fundraising opportunities and helped countless families right here.  Many other Buffalo Bills have stepped in to keep the program alive since Moorman left including Dawson Knox who has been very vocal about it.
Now that the #8 is available again, do you think we could get Brian back?
6 Buffalo Bills Greats That Didn't Look Right In A Different Uniform
Unfortunately, sometimes your favorite player leaves your team and when you see them it just looks weird. Here are five former Buffalo Bill greats that just look weird wearing a different team's jersey.
Gameday Rules For Buffalo Bills Fans That Watch From Home
QUIZ - Can You Name These 25 Buffalo Bills Players?
Alright...Bills Football is here. How big of a fan are you? Can you name of 25 of these Buffalo Bills players?
Can You Name These Buffalo Bills Players - ANSWERS