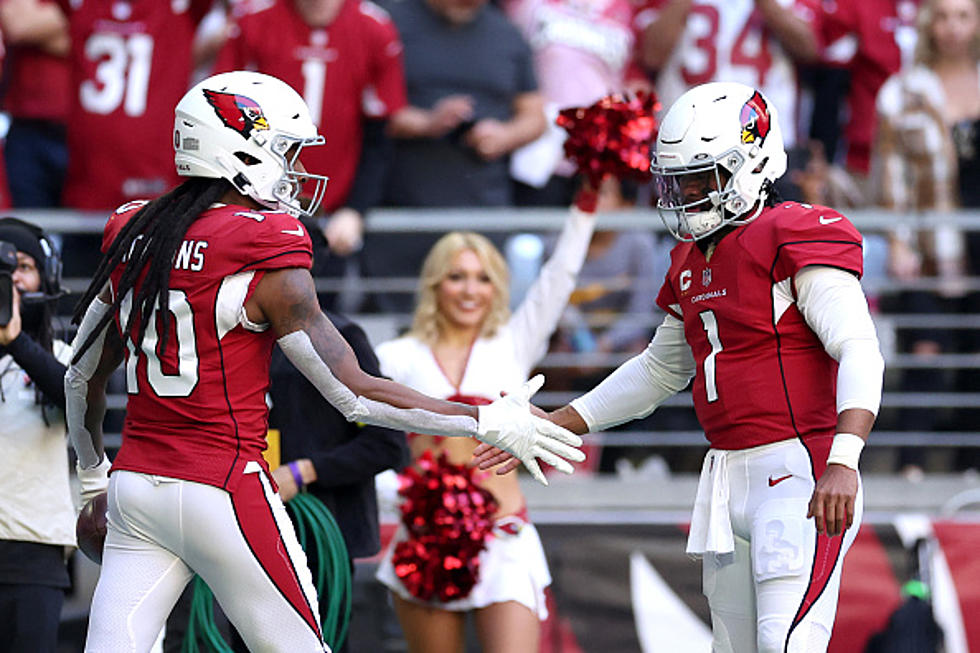 Star NFL Player on the Trade Block Spotted Near Buffalo
Getty Images
Social media is a powerful platform for people to speculate.
Think about NFL free agency and the NFL Draft before the advent of Twitter, Instagram and Facebook. You would hear about a signing, trade or draft pick when it became official.
In hindsight, it was cool to be surprised back then. When I was a kid, I would be floored over moves made in the NFL. Now, you see the reports and speculation on Twitter long before moves become official.
The latest big rumor swirling around the Buffalo Bills involves Arizona Cardinals star wide receiver DeAndre Hopkins.
With Arizona bringing in a new front office and coaching staff, it's unlikely they keep Hopkins past the NFL Draft, which means the 30-year-old veteran will be traded to a contender, with the Bills rumored to be in on Hopkins.
While NFL reporter Aaron Wilson said that the Bills headlined the candidates, Tim Graham of The Athletic said the Bills won't be trading for Hopkins. That hasn't stopped speculation and on Wednesday, Hopkins just happened to be two hours away from Buffalo.
Hopkins was in Toronto, according to his Instagram story.
He might have just wanted to take an off-season trip to Toronto but considering it was 30-something degrees there yesterday, it's a curious coincidence.
There's no way Arizona keeps him on their revamped team. The problem for the Bills and other teams is while a restructured contract is one thing, it seems as if the Cardinals compensation needs are not what other clubs want to give up for Hopkins.
The nightmare is for Hopkins to go to the Kansas City Chiefs, who really do need a star wide receiver...
6 Buffalo Bills Greats That Didn't Look Right In A Different Uniform
Unfortunately, sometimes your favorite player leaves your team and when you see them it just looks weird. Here are five former Buffalo Bill greats that just look weird wearing a different team's jersey.
Complete List Of Buffalo Bills Available On Cameo
22 Famous Buffalo Sports Phrases Every Die-Hard Bills and Sabres Fan Knows
Being a sports fan in Buffalo is sometimes like knowing a different language. Here are 22 of our favorite Buffalo sports phrases you already know if you're a huge fan! And if you're new here, here's how to catch up.