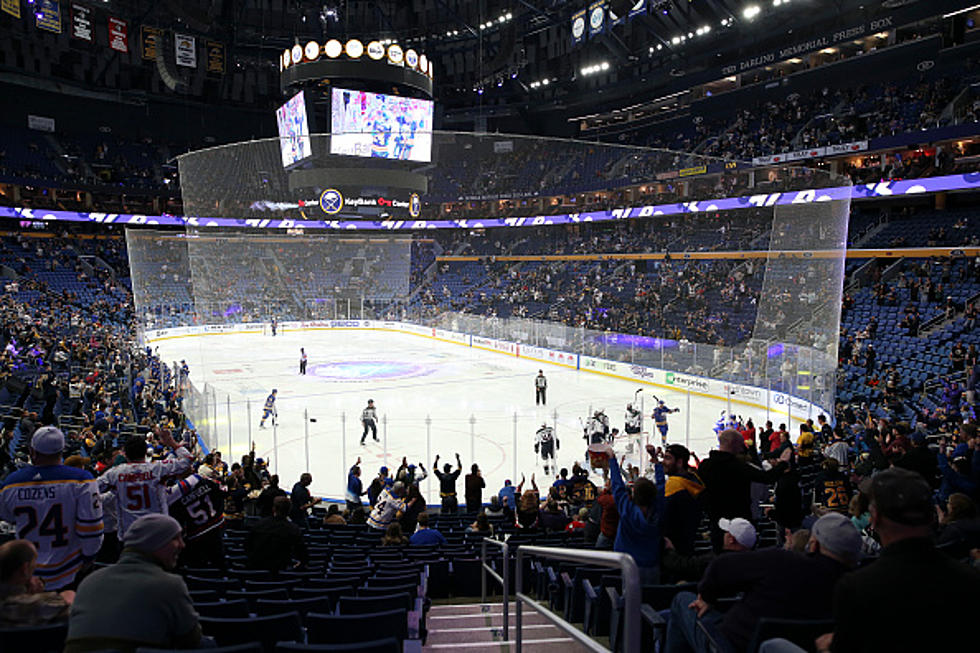 Devon Levi's TV Timeout Ritual Is The Stuff of Legends
Getty Images
The Buffalo Sabres have not made the playoffs since April of 2011. A big reason for that is the lack of having an adequate goaltender.
The Sabres have had a problem finding a goalie that is worthy enough to stick as the number one goaltender and to help bring them to the postseason; it's gotten worse in recent years, and you could argue the goaltending is what will keep them out of the 2023 playoffs, if they should miss again.
But the Sabres finally have their goalie of the future in Buffalo.
2020 6th round pick Devon Levi signed his three-year entry level contract two weeks ago. He was drafted by the Florida Panthers and traded a year later to the Buffalo Sabres in the Sam Reinhart trade.
Levi broke out after he was drafted. He was the highlight of the World Juniors and Team Canada in 2020-2021, while having perhaps the greatest season for a major college goaltender in 2021-2022 for Northeastern University.
Levi started his first career NHL game this past Friday, where he only allowed two goals in a 3-2 overtime win by the Sabres -- keeping their playoff hopes very much alive.
What fans didn't realize is Levi has an amazing ritual he does every game.
During every TV timeout, Levi skates to the hashmarks by his net and medidates on his knees. We have never seen this before from an NHL goaltender.
If you have heard Levi speak to the media, you know he handles stuff differently. That's how Ryan Miller was. Not saying Levi will match or surpass Miller's NHL career (winningest American-born goaltender in NHL history), but Levi has the makings of a superstar.
He likely gets the start against the Florida Panthers on Tuesday night in Sunrise. The Sabres are five points out of a playoff spot with games in hand on both the Pittsburgh Penguins and New York Islanders. Buffalo has to win at least five of their remaining seven games to have a shot at the playoffs. They probably need to win six of their last seven to get in.
Buffalo Sabres Goalie Masks
Take a look at some amazing Goalie Masks in Buffalo Sabres history.
Top 10 Most Underrated Buffalo Sabres of All-Time
22 Famous Buffalo Sports Phrases Every Die-Hard Bills and Sabres Fan Knows
Being a sports fan in Buffalo is sometimes like knowing a different language. Here are 22 of our favorite Buffalo sports phrases you already know if you're a huge fan! And if you're new here, here's how to catch up.