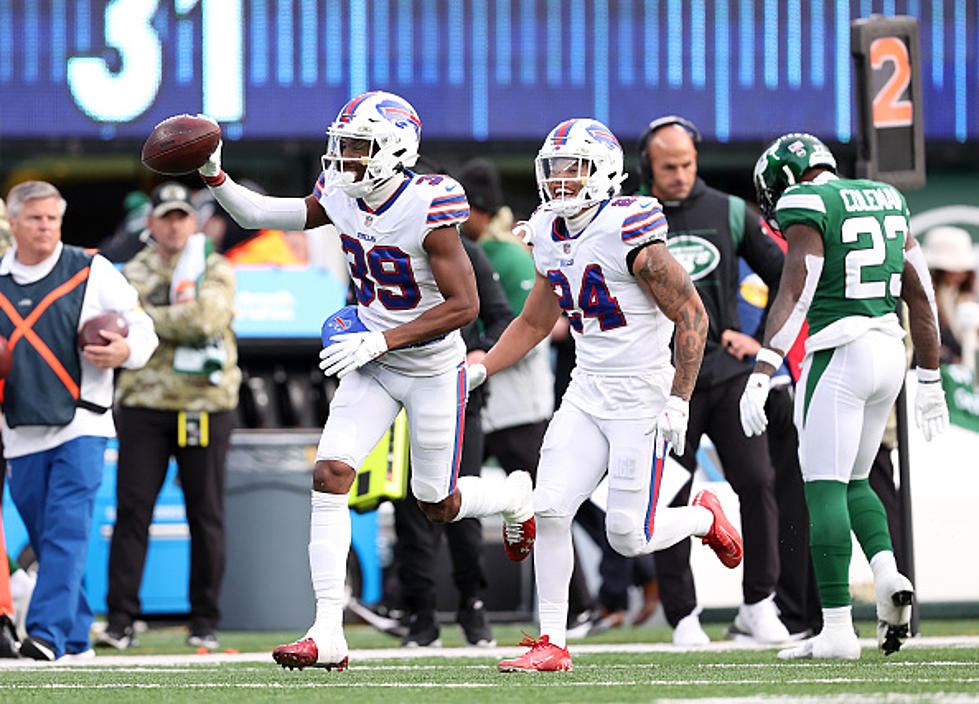 Did The Bills Make Fun of The Jets and Giants After Today's Game? [TWEET]
Getty Images
The Buffalo Bills had a game that many Bills fans wanted and were relieved by. They blew out the New York Jets by a score of 45-17.
The Bills had a shocking loss last week against the Jacksonville Jaguars by a score of 9-6, but the offense was firing on all cylinders against what is statistically, the worst defense in the NFL.
Getting rookie right tackle Spencer Brown back was a huge reason why the Bills did so much better in both run and pass blocking this afternoon. Quarterback Josh Allen threw for 366 yards and two touchdowns, while wide receiver Stefon Diggs caught 8 passes for 162 yards and a touchdown.
After the game, the Bills did what they normally do after a win, and have a couple of player pose for a photo with a pennant. This time, they posed with one that said "WNY" and added that they were "Live From New Jersey!" and "New York's only football team!"
If you don't know, this is because the New York Jets and Giants play at MetLife Stadium, which is located in New Jersey. Technically, the Bills are the only NFL team that plays its home games in the State of New York.
It's been a running joke with Bills fans for a while, and no better time for the Bills to have some fun with it, than after a 28-point win over their division rival.
The Bills next play the Indianapolis Colts at Highmark Stadium next Sunday at 1 pm. The Colts used to be in the AFC East and were the team the Bills ended their playoff win drought against back in January of 2021.
Every Pick Made By Buffalo Bills GM Brandon Beane
15 Things You Should Never Do at a Bills Home Game
Things that are a no-no to do at a Buffalo Bills home game.
25 Important Things You Need To Bring To Your Tailgate
$2.4 Million New York State Home Inspired By HGTV
This home in Elma, NY was
inspired
by HGTV!