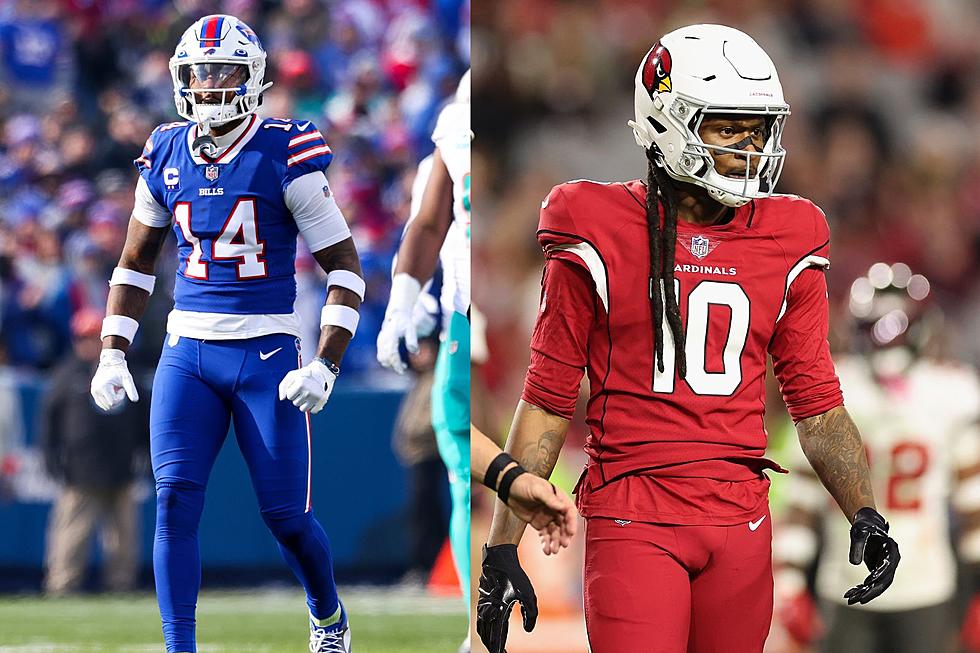 Stefon Diggs Reportedly Upset About De'Andre Hopkins Situation
(Getty Images/Canva)
People have been speculating about what has made Stefon Diggs so upset lately.  The latest theory involves wide receiver De'Andre Hopkins.
To say that this offseason has been interesting for the Buffalo Bills and wide receiver Stefon Diggs would be an understatement.  Unfortunately, we still don't know what the story is.
Stefon Diggs is obviously not happy about something
First, Diggs left the field after the Cincinnati Bengals game upset.  He didn't talk to the press and this is where it all started.  Then in the off-season, he did some interviews with some people that raised eyebrows. He started saying things about how he would love to play on a team with his brother making people think that he didn't want to be in Buffalo anymore.  The most recent thing that has people talking is that he didn't show up to voluntary OTA's and then although he was at the facility for the first day of mandatory mini-camp, was not an active participant at practice.  He did show up to day #2.
Then the strange press conference with coach Sean McDermott really solidified that things weren't ok at One Bills Drive when McDermott responded that he was "Very concerned" when asked if he was worried that Diggs wasn't there.
What is Diggs upset about?
The problem is that no one really knows what he's upset about.  He hasn't said a word to the press.  He did come back for day two of mini-camp, but then they canceled the remainder of the camp.
People have guessed that the problem could be with his involvement in the offense, but he had one of the most productive years of his career last season.  Others guessed that it might be with his contract and the front office.  But considering that he just restructured his contract and is getting paid a good amount of money, that's unlikely.  Is it the coaches?  Does he disagree with offensive coordinator Ken Dorsey?  Is it McDermott?
Until someone comes out and says what is happening we are left with guesses and speculation.
The latest guess involves De'Andre Hopkins
The most recent theory is that Diggs is upset about the whole De'Andre Hopkins situation.  People are claiming that he's upset that he restructured his contract so that the Bills would have a little more room to go get veteran free agent wide receiver De'Andre Hopkins.
Diggs did his part, but the Bills haven't sealed the deal with Hopkins yet, and it looks pretty unlikely that they ever will.
Again, no one will know what the situation is, until someone breaks their silence but for now, the Bills are doing their best to take care of the situation behind closed doors.
The Newest Buffalo Bills Jersey Numbers
One Sentence That Will Immediately Enrage Buffalo Bills Fans [LIST]
Disclaimer: If you're a Buffalo Bills fan and feeling slightly annoyed today, you're about to fly off the handle.
5 Of The Worst Free Agency Signings ByThe Buffalo Bills