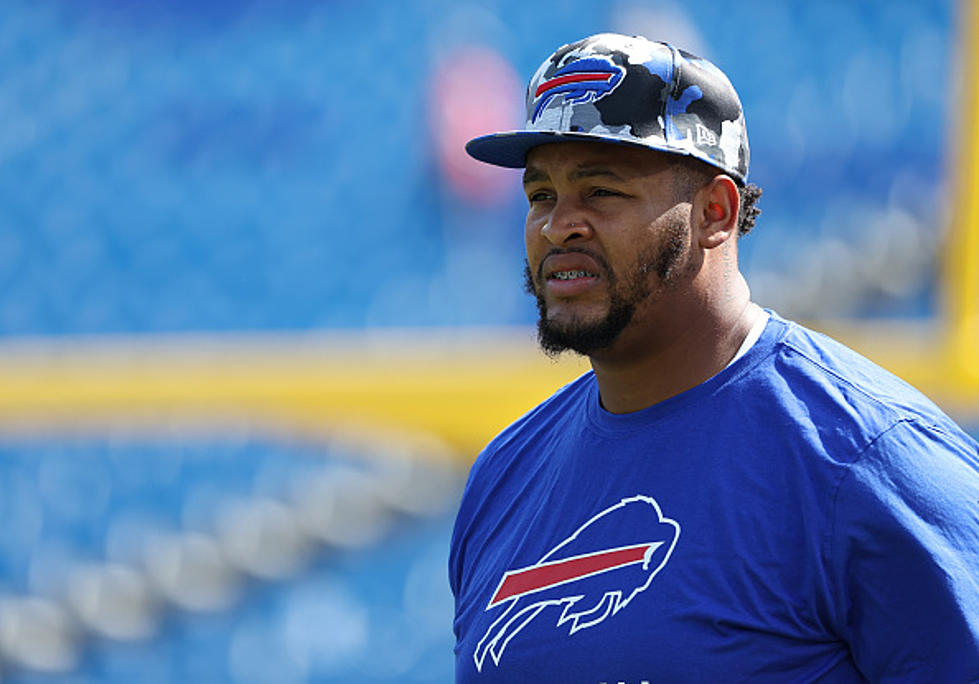 Dion Dawkins Refuses to Eat at Restaurant Because of Patriots Sign
Getty Images
The Buffalo Bills have a lot of personalities on their roster. It's not a diva personality, but fun-natured personalities that make fans truly adore the team.
Yes, the team making the playoffs every season makes a fanbase love a team, but when the roster is made up of genuinely awesome humans, it helps.
One of the best personalities on the Bills is starting left tackle Dion Dawkins.
The Pro Bowl player was drafted by Buffalo in the 2017 NFL Draft and has been a mainstay on the offensive line ever since; protecting Josh Allen's blindside over the past five seasons.
Dawkins has been active in the community here in Western New York, along with buying all in on what makes Buffalo special: the people, the food, the cold weather and hating on the rivals.
The Bills are teasing a new behind-the-scenes video of Dawkins with second-year cornerback Kaiir Elam, who appear to be going out to eat somewhere. It certainly doesn't look like Buffalo, because the clip the Bills shared features Dawkins and Elam asking if a restaurant was any good to a patron out front, but then noticing a Patriots logo in the window.
After driving off, Dawkins said that he could never eat there. Elam asked him "why?" and Dawkins responded, "they got a Patriots logo in the front window! I don't care how good the food is, I ain't going in there," said Dawkins.
As if we didn't love Dawkins enough -- this video clip will make Bills fans adore him even more.
Hating the Patriots is almost as passionate as loving the Bills in Buffalo.
Tom Brady Was Intercepted By These Buffalo Bills [LIST]
Tom Brady officially called it quits. He is a list of every Buffalo Bills player who intercepted him during his Hall of Fame career.
Complete List Of Buffalo Bills Available On Cameo
Top 50 Summer Restaurants in Buffalo and Western New York
Check out some of the best spots for food and drinks this spring and summer across Western New York!