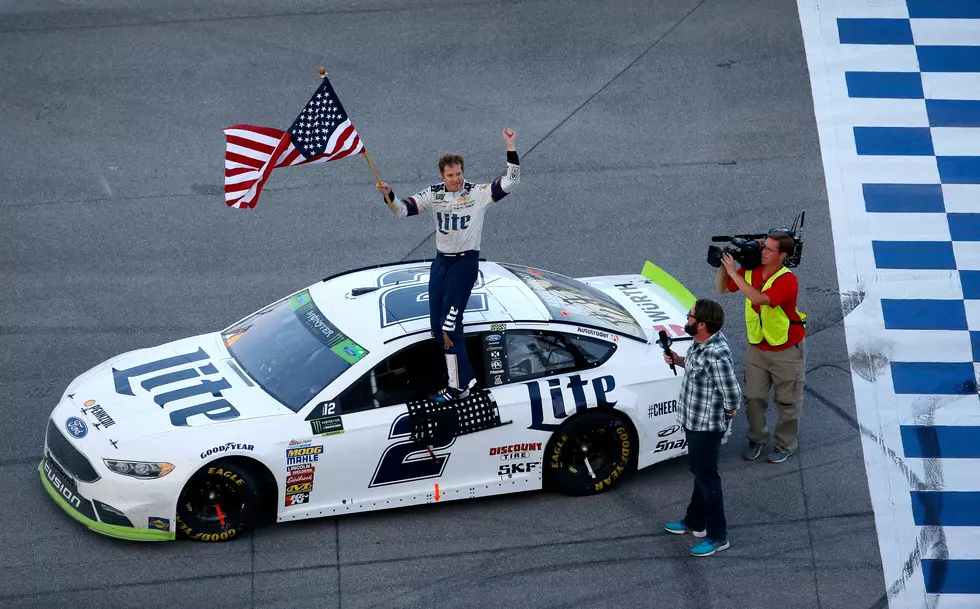 Exciting Last Lap Pass Wins It At Talladega
Brad Keselowski celebrates his win at Talladega Superspeedway (Getty Images)
Only 14 cars were able to finish Sunday's Alabama at Talladega Superspeedway.  Three major wrecks, including one involving 17 cars brought out red flags and at the finish just four of the 12 playoff drivers were still running.  But it was Brad Keselowski who used a last lap pass Ryan Newman to win his fifth restrictor-plate race and an automatic pass into the Round of 8. 
Newman finished second.  Trevor Bayne came in third with Joey Logano and Aric Almirola completing the Top 5.
Talladega's "Big One" came with 17 laps left.  It ended the day for playoff drivers Martin Truex, Jr., Jimmie Johnson, Kyle Busch and Ricky Stenhouse, Jr. along with six other drivers.
Another crash with 11 laps left put playoff drivers Ryan Blaney and Kevin Harvick into the garage.
Entering next week's elimination race at Kansas Kyle Busch, Matt Kenseth, Ricky Stenhouse, Jr. and Kyle Larson are the last four drivers of the 12 remaining in the playoffs.
In his final race at Talladega, Dale Earnhardt, Jr. finished seventh.