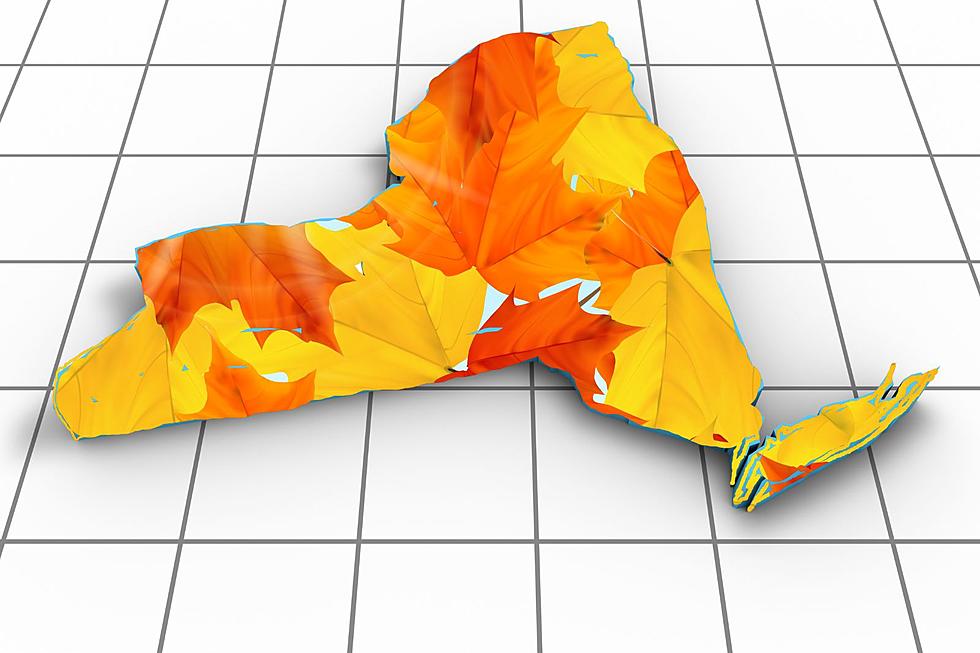 Get The Most Of New York's Fall Colors With The 2023 Foliage Map
(Canva)
People love checking out leaves in the fall.  It's easily one of the best parts of the season for some, and if you want to plan your weekend trips, this map will help.
You've already had your first pumpkin spice latte.  The kids are heading back to school.  It's past labor day.  It's time, if you haven't already, to get into fall mode.  That could mean just about anything from splitting and stacking wood, to taking trips to check out the leaves across New York State.
The Fall Foliage Map is here
Every year around this time, a Fall Foliage Prediction Map is released by SmokyMountains.com.  While they will admit, it cannot be 100% accurate, it will normally give you a pretty good indication of when leaves will begin to see mass changes, when they're in peak season, and when they're past their peak.
The Fall Foliage Map is adjustable
One of the coolest parts about this map is that it's adjustable.  It's not something that you have to bookmark and visit every single day (although you could if you wanted to see if it was correct).  You can actually adjust the date to see what the leaves might be doing on a specific day.  Maybe you'll be taking a trip or you've got family photos planned.  Will the leaves be beautiful colors?  Or will they be brown and cover the ground?  That's what this map is for.
When will peak season be across New York State?
While you might be seeing some leaves starting to change already, it's still a little early for massive color changes.  According to the foliage map, New York will be seeing the most change around the beginning of October.  They have the week between October 2nd and October 9th as the dates when most of New York will be in partial or peak season.
Be ready though...according to this map, by October 23rd, most of New York will be past peak.
Top 5 Places to See Fall Foliage in New York State
The must-visit areas to see fall foliage next month in New York.
10 Best Towns in in New York State for Fall 2023
We're just about at the fall season, which means festivals, pumpkins, fall foliage and more. Here are the 10 best towns for autumn in New York state.
7 Illness You'll See This Fall In New York State
These illnesses will be at their peak this fall all across New York.