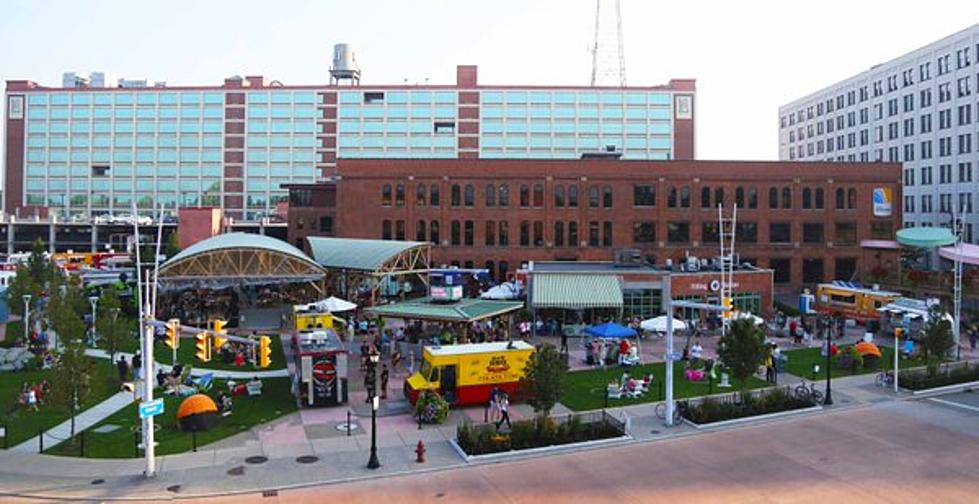 Food Truck Tuesday Returns to Larkin Square
VisitBuffaloNiagara
It's back! Food Truck Tuesday at Larkin Square - One of the best places to be Tuesday nights!
Every Tuesday (April 19 -October 4) over thirty food trucks from Western New York, Rochester and beyond circle up at Larkin Square for a night of food, fun and entertainment! You can even enjoy some adult beverages (sold on site). While this is a family event there are still a few rules:
"Guests are welcome to bring a folding chair or picnic blanket. Sorry, no pets or smoking  or outside food and beverages are allowed."
You'll also be able to round out your tuesday night with great entertainment each week!
Tuesday, April 19, 2016
Ten Cent Howl
Tuesday, April 26, 2016
Randle & the Late Night Scandals
Tuesday, May 3, 2016
Neville Francis & the Riddim Posse
Tuesday, May 10, 2016
Zak Ward & the Ryan Bros
Tuesday, May 17, 2016
German-American Musicians
Tuesday, May 24, 2016
Workingman's Dead
Tuesday, May 31, 2016
Gravy
Tuesday, June 7, 2016
The Kensingtons
Tuesday, June 14, 2016
Buffalo Silver Band
Tuesday, June 21, 2016
LeeRon Zydeco & the Hot Tamales
According to LarkinSquare.com there is FREE PARKING, but since it's a busy event be patient and head in early!
Full list of Food Trucks:
Ted's Hot Dog Truck, Midnight Smokin' BBQ, Antone's At The Fair, O.G. Wood Fire, Taffy's, Chef's, Smoothies Plus, (716) Club House, Street Cafe, Kona Ice, Center Street Smokehouse, Tuscan Wood Fired, Sassi Cakes, Just Pizza, Abbotts Custard, Cruisin' Crepes, Flaming Fish, Big Suzie's Little Bakery, Street Eats, Philly Flattop, Amy's Truck, Beer Cart, Black Market, Cheesy Chick, Frank Gourmet Hot Dogs, Whole Hog, Great Foodini, House Of Munch, J&L Boulevard BBQ, Lloyd Taco Truck, Macarollin, The Meatball Truck Co., Pizza Amore, Le Petit Poutine, RNR BBQ Truck, Sweet Hearth, Sweet Melody's, Thai Me Up