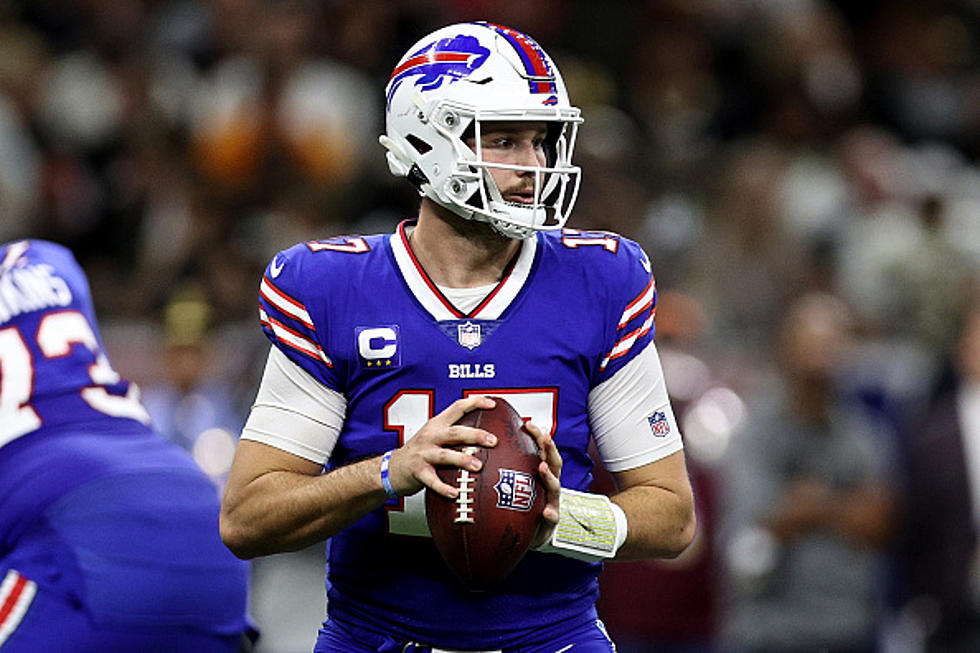 Great News For The Buffalo Bills and Josh Allen
Getty Images
It's not the kind of season that Buffalo Bills fans originally wanted. Hopes of not only the AFC East division crown, but the number one seed in the entire AFC danced in Bills fans minds.
Now, they're just trying to make sure they make the playoffs.
The Bills are 7-6 and holding down the final playoff spot in the AFC as it stands today (the 7th seed). The Bills have four regular season games remaining, with two against AFC East opponents, and two against NFC opponents. The Bills host one of those NFC teams this Sunday at Highmark Stadium.
The Carolina Panthers visit Highmark Stadium in Orchard Park at 1 pm this Sunday. It's the first time the Panthers have been in Orchard Park since 2013, when E.J. Manuel and Stevie Johnson played for the Bills.
One thing on many Bills' fans minds this week was the health of quarterback Josh Allen.
Allen was injured towards the end of the Bills game against the Tampa Bay Buccaneers, and later diagnosed with a sprained foot.
Good news on Friday morning, however, as Bills head coach Sean McDermott told WGR radio in Buffalo that Allen will be a full participant in practice today and will be "good to go" for Sunday's game.
McDermott also confirmed that wide receiver Emmanuel Sanders will miss Sunday's game, as he was injured against the Bucs.
Defensive end Mario Addison and running back/special teamer Taiwan Jones are both questionable.
Left tackle Dion Dawkins tested positive for COVID-19 for a second time and was placed on the Reserve/COVID-19 list.
Because of the updated NFL protocols, there's a small chance Dawkins can play, but it's unlikely. NFL players can come off the COVID list if they're fully vaccinated, are experiences no symptoms, and provide one negative test. Before, it had tow be two negative tests.
Kickoff is 1 pm for Bills and Panthers at Highmark Stadium.
The Bills 2022 Opponents We Know Right Now
Here's who we know the Bills will play at home and away in 2022.
21 Places to Order A Garbage Plate In Western New York
Rochester isn't the only place that serves phenomenal garbage plates. Check out one of these 21 places in Western New York to get your fix.
29 Things That Make Buffalonians Happy
What Makes Buffalonians Happy
Former Buffalo Sabres Player Sells Million-Dollar Clarence Home
One of the key players on the Buffalo Sabres 1999 playoff run, Richard Smehlik, is
selling
his Clarence home.