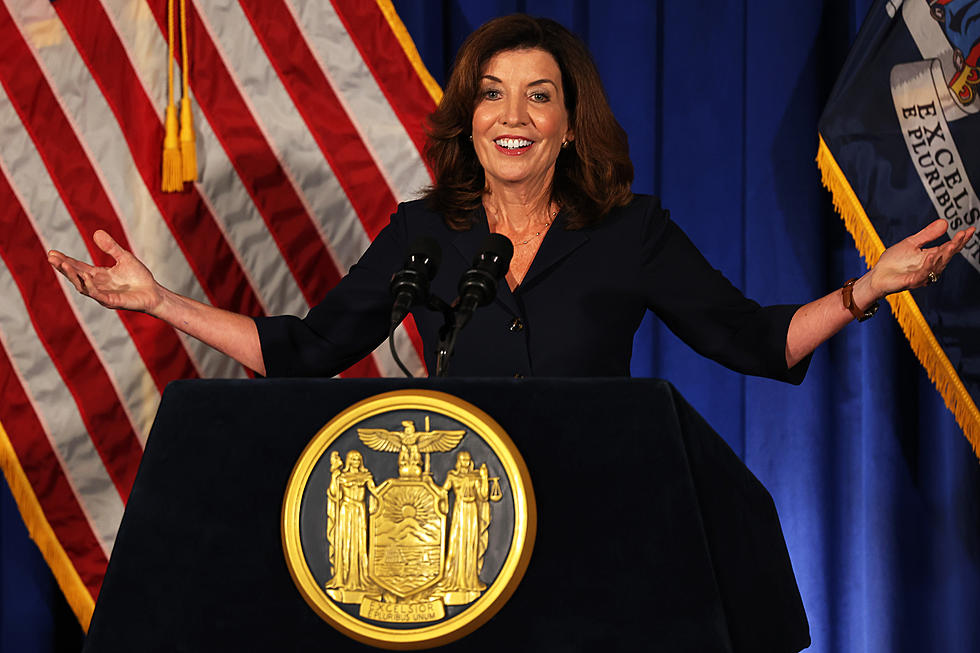 How Gov. Hochul Plans To Spend New York State Taxpayers' Money Next Year
Getty Images
Governor Kathy Hochul recently released highlights from her proposed 2024 FY budget. Here's a portion of how she plans to spend taxpayer's money and other funding available to New York State.
Childcare
Gov. Hochul's proposed budget includes funds to help make childcare more accessible and affordable for New Yorkers:
- $389 million in Federal funding for a Workforce Retention Grant program
- $25 million to support the Employer Child Care Tax Credit
- $4.8 million for the Employer-Supported Child Care Pilot Program
Health Care
- $500 million in multi-year health care capital funding
- $500 million in multi-year capital grants for investments in technological upgrades
- $967 million to complete consolidation of Wadsworth Laboratories' in Albany by 2030
- $100 million to expand Medicaid coverage of preventative and primary care
- $157 million for New York State's nursing homes and $9 million for assisted living providers
- $8 million to revitalize the Emergency Medical Services system
- $14 million to increase Medicaid reimbursement rates for medical transportation
Affordable Housing
Governor Hochul's plan to address the affordable housing crisis in New York State includes (but not limited to):
- $250 million for upgrades and improvements to local infrastructure
- $4 million to create a new Housing Planning Office within Homes and Community Renewal
- $39.8 million to reduce lead exposure and assist property owners with remediation in rental units outside of New York City
- $50 million to create a statewide Homeowner Stabilization Fund to help homeowners with repairs in 10 low-income communities
Public Transportation
Gov. Hochul plans to use funds to expand public transit access, affordability, and safety. Her budget includes:
- $300 million for a one-time bailout for the MTA
- $150 million from the MTA for additional safety personnel
- $9.1 billion in mass transit operating support
- $7 billion for the DOT Capital Plan to improve public highways, bridges, aviation infrastructure, local roads, and more
- $20 million to convert buses to electric for non-MTA authorities
- $20 million to rehabilitate the NFTA's Metro Rail
Climate Crisis
Gov. Hochul plans to invest $5.5 billion to promote energy affordability, reduce emissions, and protect clean air and water:
- $500 million for clean water infrastructure funding
- $400 million for the Environmental Protection Fund
- $400 million in energy assistance for New York residents and to help pay for electrification and retrofits
- $200 million for the Office of Parks, Recreation, and Historic Preservation to improve and enhance state parks
Gun Violence Prevention
Governor Kathy Hochul has included a hefty chunk of change in her 2024 budget to battle gun violence in New York State. The budget includes hundreds of millions of dollars for gun violence prevention, including (but not limited to):
- $84.1 million for youth employment programs
- $70 million for communities' responses to gun violence
- $31.1 million for crime reduction, youth justice, and gang prevention programs
- $25.9 million for State Police Community Stabilization Units
- $25 million for the SNUG programs
- $52 million in help with prosecution for all 62 counties' district attorneys' offices.
- $31.4 million for alternatives to prison programs
You can view more highlights of the 2024 budget here.
The Top 6 Reasons Why New Yorkers Are Moving Out
Why are so many New Yorkers leaving the state? It has been a popular discussion over the last few years, and an issue that was even addressed recently by Governor Hochul as one we the state needs to fix. The pandemic has certainly influenced the ratio of folks leaving New York versus those moving in, but there are a multitude of reasons why New Yorkers move out. Here are the top 6 according to
United Van Lines.
10 Most Expensive Places To Live In New York In 2022
It's no secret that when you live in New York State, you pay a lot in taxes. Where are the 10 most expensive places to live in our state?
Here were the 10 most expensive places to live in New York State for 2022: