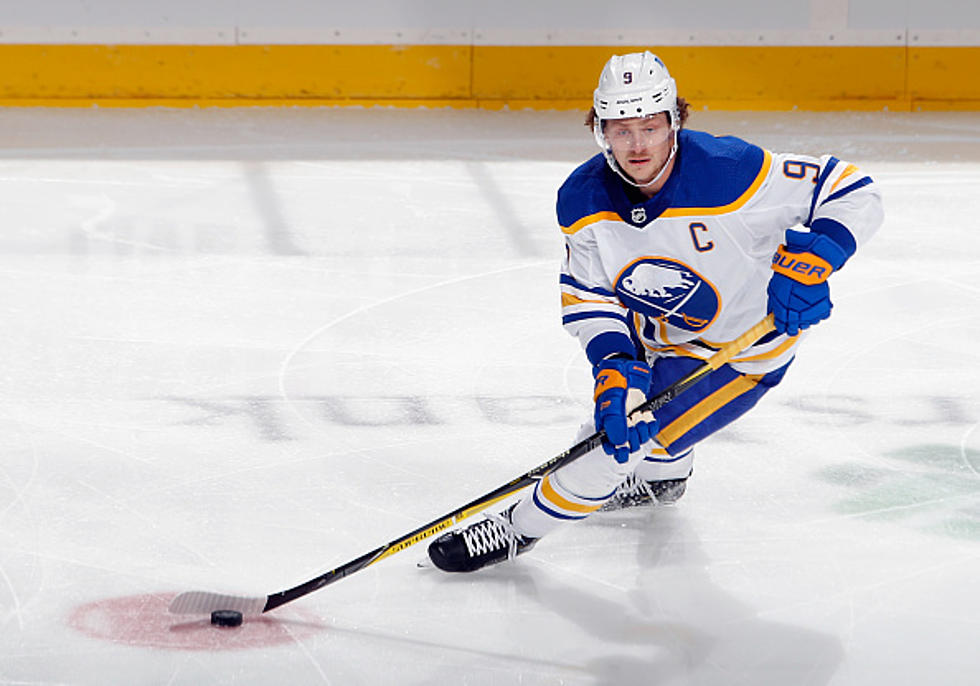 Jack Eichel Stripped as Captain of the Buffalo Sabres
Getty Images
The Buffalo Sabres have begun training camp for the 2021-2022 regular season and are looking forward to the first preseason game, which will be played next Thursday, at the Columbus Blue Jackets. The first regular-season game will be played at home on Thursday, October 14th against the Montreal Canadiens.
On Thursday morning, Sabres General Manager Kevyn Adams spoke with the Buffalo media and said some very interesting things regarding the team and disgruntled star forward Jack Eiche.
The most notable thing said by Adams: Eichel is no longer captain of the Buffalo Sabres.
Eichel failed his physical, so he cannot play with the Sabres right now. Eichel and the organization have long been reported to be at odds, over which particular neck surgery he should get. The options are artificial disc replacement (what Eichel wants) or disc infusion (which is what the Sabres and team doctors desire).
There is no timeline on when Eichel will ultimately be traded, but Sabres head coach Don Granato says that "it's not a distraction at all."
As far as who will be the new captain, Adams said they will let that situation play itself out and right now, no captain will be named for the Sabres.
Adams dodged a question on whether or not Eichel has played his final game for the Sabres, and Adams also says that when the time comes, they will make the right decision for the team.
It's clear that the Sabres and Eichel have reached the point of no return. Eichel does not want to be a Sabre and the organization have tried to trade him (by all accounts), but the value hasn't been there for Adams.
I know fans are over this drama and the Sabres haven't won over anyone with this morning's press conference.
Buffalo Sabres Captains Since 2000
Buffalo Sabres Goalie Masks
ALSO: Former Minnesota Twins All-Star's Home for Sale - Complete With Brewery
CHECK IT OUT: 100 sports records and the stories behind them